Delta II Rocket / Gravity Probe B Launch Images
2018 November 24
In 2004 April a Delta II rocket carrying the Gravity Probe B satellite was launched from Vandenberg AFB. The webmaster was at Vandenberg covering the launch for a news organization and took the following images from the press site. The distance to the launch pad was 3.3 miles.
Several minutes before launch, the final weather balloon goes aloft to gather data on winds. The weather balloons were launched from a small building about 300 yards from the press site. The launch of this balloon was a source of apprehension because unfavorable winds would scrub the launch.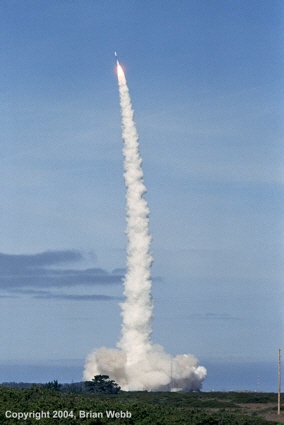 The Delta II rocket carrying NASA's Gravity Probe B lifts off from Space Launch Complex 2-West.
The launch vehicle climbs and gathers speed shortly after launch. The view through the camera viewfinder at this point was impressive.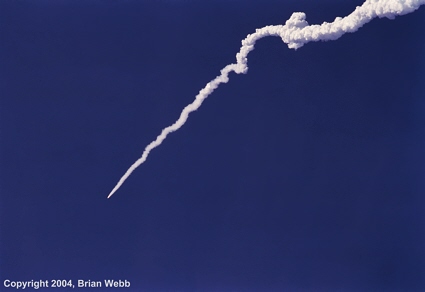 The Delta II races downrange as its solid rocket motors leave a thick smoke trail.
Copyright © 2005-2018, Brian Webb. All rights reserved.