USS Maine Successfully Tests
Trident II D5LE Missile
(FEB 13) PACIFIC OCEAN — The U.S. Navy conducted a scheduled, one-missile test flight of an unarmed life-extended Trident II (D5LE) missile from USS Maine (SSBN-741), an Ohio-class ballistic missile submarine, on the Western Test Range off the coast of San Diego, California, today. More
Minuteman III Launches from Vandenberg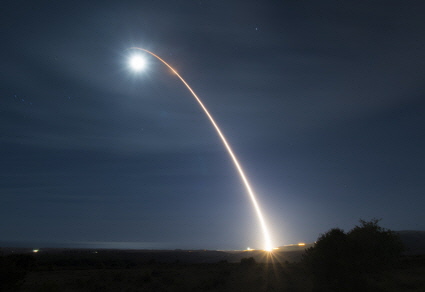 An unarmed Minuteman III intercontinental ballistic missile launches during a developmental test at 12:33 a.m. Pacific Time Wednesday, Feb. 5, 2020, at Vandenberg Air Force Base, Calif. (U.S. Air Force photo by Senior Airman Clayton Wear)
(FEB 5) VANDENBERG AIR FORCE BASE, Calif. -- An unarmed Minuteman III intercontinental ballistic missile launched during a developmental test Wednesday, Feb. 5, at 12:33 a.m. Pacific Time from North Vandenberg.
This Minuteman III launch, conducted by Air Force Global Strike Command, was made possible by Vandenberg's extensive range support. This launch is the first that Vandenberg has hosted since it became a part of the United States Space Force. The 30th Space Wing provides critical technical capabilities in support of space launch and test customers to include telemetry and radar, command and control, optics, and communication.
Col. Kris Barcomb, 30th Operations Group commander, was the launch decision authority.
"We are very proud to have accomplished this operation with our long-standing mission partner, Air Force Global Strike Command," said Barcomb. "We look forward to building on this launch as we continue to provide robust, safe and reliable capabilities critical to the testing and evaluation of the ICBM program, and many space and range programs to come."
Col. Anthony Mastalir, 30th Space Wing commander, has a vision for Vandenberg Airmen to lead the next generation of space lift and range capabilities.
"Our Airmen remain laser-focused on the flawless execution of our launch and range missions," said Mastalir. "I am extremely proud of the continued collaboration between the 30th Space Wing and the 576th Flight Test Squadron, culminating in another successful demonstration of our steadfast commitment to mission success."
Vandenberg AFB
Wednesday Missile Launch
(FEB 1) Media sources report the Air Force Global Strike Command and U.S. Space Force have scheduled a Minuteman III missile for launch from Vandenberg AFB early next Wednesday. The unarmed ICBM is slated to lift off from north base February 5 during a 00:08-06:08 PST launch window.
Launch viewing will be hampered during most of the launch window by the nearly full moon. During that time, the event should be easily to the unaided eye for at least 50 miles. Observers with an unobstructed horizon who know exactly where to look may see the launch more than 100 miles away. If the launch happens between moonset and dawn, it should be visible over a much wider area.
If liftoff occurs late in the window, some sky watchers may be treated to an interesting display as the missile's exhaust is illuminated at high altitude by the sun while suspended in a dark sky as seen from the ground.
Brian Webb
Mars Aeroshell
The heat shield (left) and back shell (right) that comprise the aeroshell for NASA's Mars 2020 mission are prepared at Lockheed Martin Space in Denver, Colorado, which manufactured the aeroshell. The aeroshell will encapsulate and protect the Mars 2020 rover and its descent stage both during their deep space cruise to Mars and during descent through the Martian atmosphere, which generates intense heat. Image courtesy of Lockheed Martin Space
Planet Hunting Instrument Sees First Light
(JAN 14) UCI astronomer Paul Robertson recently celebrated "first light" for NEID, a new exoplanet hunting instrument he helped develop. Installed at the 3.5-meter WIYN telescope at Kitt Peak National Observatory in Arizona's Sonoran Desert, NEID is an extremely precise radial velocity spectrometer. Its initial observations were of 51 Pegasi, a sunlike star that, in 1995, was found to have a planet in its orbit; the discovery led to the 2019 Nobel Prize in physics for Michel Mayor and Didier Queloz. According to Robertson, NEID detects exoplanets by measuring the small wobble these bodies exert on their host stars; astronomers can determine planetary mass by measuring the size of the periodic Doppler shift in the star's rotation velocity. Earlier instruments clocked speeds down to 1 meter per second, but NEID was built to register motions three times slower than that, enabling it to find planets close to the mass of Earth, which exerts a 0.1-meter-per-second tug on our sun. "NEID achieving first light is an exciting development because it means we're close to opening the instrument for science operations," said Robertson, UCI assistant professor of physics & astronomy. "This is great for the whole exoplanet science community because NEID is available for use to astronomers all over the world. It's the only ultra-precise Doppler instrument that's so accessible to the community." Robertson led implementation of NEID's thermal control system, which keeps the temperature of the optics stable to better than half a millikelvin (less than 0.0005 degree). "This temperature stability is crucial, as any thermal expansion or contraction of the optical system would create measurement shifts that would mask the signals of orbiting exoplanets," he said. Robertson is also deputy project scientist in charge of the NEID team's guaranteed time observer survey, which is designed to search for Earthlike planets orbiting nearby stars. Exoplanets discovered with NEID will help identify targets for follow-up observations with upcoming facilities such as NASA's James Webb Space Telescope, which will be able to detect and characterize the atmospheres of transiting exoplanets. NEID is funded by the joint NASA/NSF exoplanet research program NN-EXPLORE.
University of California Irvine
Californian Completes Astronaut Training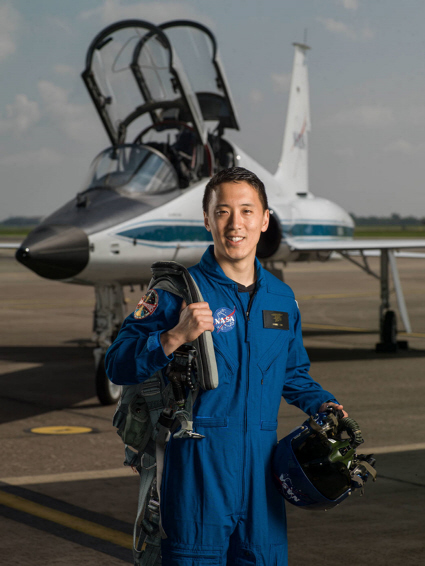 Los Angeles native Dr. Jonny Kim joined NASA's astronaut corps on January 10 after successfully completing astronaut candidate training. Photo courtesy of NASA
(JAN 12) A Los Angeles native who recently completed two years of astronaut training is one of 11 new astronauts welcomed into NASA's astronaut ranks on Friday.
Dr. Jonny Kim, a U.S. Navy lieutenant, was born and grew up in Los Angeles. He enlisted in the U.S. Navy, then trained and operated as a Navy SEAL, completing more than 100 combat operations and earning a Silver Star and Bronze Star with Combat V. Afterward, he went on to complete a degree in mathematics at the University of San Diego and a doctorate of medicine at Harvard Medical School. Kim was a resident physician in emergency medicine at Massachusetts General Hospital in Boston.
Kim's astronaut candidate training included instruction, practice, and testing in spacewalking, robotics, International Space Station systems, T-38 jet proficiency, and the Russian language.
Brian Webb
X-15 Lecture Scheduled
(JAN 4) Michelle Evans, author of the bestselling book "The X-15 Rocket Plane, Flying the First Wings into Space" will give a free lecture on the X-15 program on January 16.
The IEEE will host the event at the Cal Lutheran Center for Entrepreneurship, 31416 Agoura Road, in Westlake Village.
Pizza and networking begins at 6:30 p.m. and the presentation is scheduled to start at 7:00 p.m.
Register at www.ieee-bv.org/meet/2020-01-aes
For more information about the lecture, go to https://www.ieee-bv.org/flyer/2020-01-aes
IEEE
New WGS-11 Satellite to Offer Greater Coverage, Efficiency than Predecessors
(DEC 26) EL SEGUNDO, Calif. — Boeing has developed a new variant of its 702 satellite for the U.S. Air Force's Wideband Global SATCOM (WGS) constellation, one that offers both greater bandwidth efficiency and signal power than previous satellites in the fleet.
The new WGS-11 will be delivered on a recently negotiated contract award from the Air Force.
Advances in Boeing digital satellite technology mean WGS-11 will deliver hundreds of coverage beams and provide a more flexible and efficient use of bandwidth. These innovations will enable the spacecraft to support more users in theater and allow dedicated beams to follow aircraft in flight.
"WGS-11 incorporates the latest advances in Boeing commercial satellite technology combined with a resilient and robust design specifically for military use in contested environments," said Troy Dawson, Boeing vice president, Government Satellite Systems. "We look forward to delivering this critically important asset to the U.S. Air Force in 2024."
WGS provides dedicated high capacity broadband communications connectivity to U.S. and allied forces around the world. Boeing has been the lead contractor on the program since it began in 2001.
For more information on Defense, Space & Security, visit www.boeing.com. Follow us on Twitter: @BoeingDefense and @BoeingSpace.
Boeing
U.S. Space Force Established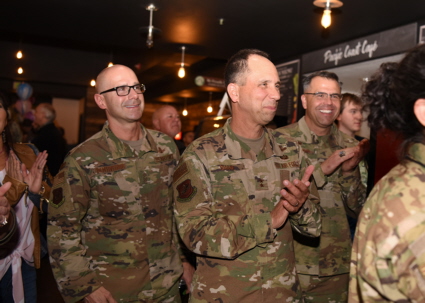 Base leadership claps as the National Defense Authorization is signed establishing the United States Space Force Dec. 20, 2019, at Vandenberg Air Force Base, Calif. (U.S. Air Force photo by A1C Hanah Abercrombie)
(DEC 20) PENTAGON, Washington D.C. -- Today the President signed the 2020 National Defense Authorization Act and with it, directed the establishment of the U.S. Space Force as the sixth branch of the armed forces.
"We are at the dawn of a new era for our Nation's Armed Forces. The establishment of the U.S. Space Force is an historic event and a strategic imperative for our Nation. Space has become so important to our way of life, our economy, and our national security that we must be prepared as a Nation to protect it from hostile actions," said Secretary of Defense, Mark T. Esper. "Our Military Services have created the world's best space capabilities. Now is the time for the U.S. Space Force to lead our Nation in preparing for emerging threats in an evolving space environment. This new service will help ensure we are postured to deter aggression, defend our national interests and outpace potential adversaries."
"Space is critical to our nation's economic interests, national security, and way of life," said Chairman of the Joint Chiefs of Staff, Gen. Mark A. Milley. "In military operations, space is not just a place from which we support combat operations in other domains, but a warfighting domain in and of itself. Our adversaries are building and deploying capabilities to threaten us, so we can no longer take space for granted. The U.S. Space Force is the necessary and essential step our Nation will take to defend our national interests in space today and into the future."
"The launch of the U.S. Space Force propels the nation into a new era," said Secretary of the Air Force, Barbara M. Barrett. "An agile, lean and technologically-advanced force of talented professionals will now singularly focus on protecting our U.S. national interests and security in space."
"With the establishment of the Space Force we elevate the organize, train and equip function consistent with the criticality of the space domain," said Gen. Jay Raymond, Chief of Space Operations and Commander, U.S. Space Command. "The U.S. Space Force will deliver the capabilities U.S. Space Command needs to control and exploit space for national advantage."
Department of Defense
DOD Tests Prototype Conventionally-Configured Ground-Launched Ballistic Missile
(DEC 12) On Thursday, Dec. 12, 2019, at 8:30 a.m. Pacific Time, the U.S. Air Force, in partnership with the Strategic Capabilities Office, conducted a flight test of a prototype conventionally-configured ground-launched ballistic missile from Vandenberg Air Force Base, California. The test missile exited its static launch stand and terminated in the open ocean after more than 500 kilometers of flight. Data collected and lessons learned from this test will inform the Department of Defense's development of future intermediate-range capabilities.
Department of Defense
NMSU Astronomers Contribute to Discovery of Giant Magnetic Ropes in Galaxy's Halo
Composite radio and optical image of the spiral galaxy NGC 4631 (the "Whale Galaxy") showing magnetic filaments extending into the galaxy's extended halo. Image courtesy University of Manitoba, NRAO, Max-Planck Institute for Radioastronomy, New Mexico State University, and the University of Bochum.
(DEC 4) LAS CRUCES, NM - A New Mexico State University astronomy professor and his former graduate students are part of an international team of astronomers whose work helped create an image of the "Whale Galaxy" (NGC 4631), made with the National Science Foundation's Karl G. Jansky Very Large Array (VLA), that reveals hair-like filaments of the galaxy's magnetic field protruding above and below the galaxy's disk. More
The Women of the Moon: Tales of Science, Love, Sorrow, and Courage
by Daniel Altschuler and Fernando Ballesteros (Oxford University Press; $26.95; 299 pages, hardcover, ISBN 978-0-19-884441-9)
(DEC 1) When the clerk at the post office handed me a box from the Oxford University Press, I was hoping it contained another excellent book from this prestigious publisher. I was not disappointed.
As I skimmed through The Women of the Moon over lunch, I was quickly intrigued with the book's concept. Although there are 1,586 lunar craters named for scientists and philosophers, only 28 are named for women, and the authors embarked to tell their stories.
The book begins with an overview of our solar system, the moon's features and characteristics, and early telescopic observations of our neighbor. This is followed by a chapter on the history of the naming of lunar features.
The core of the book consists of 28 biographies which describe the life, challenges, and contributions of each woman with a crater named in her honor. The biographies are well written and most of have a map showing the location and a spacecraft image of the crater bearing the woman's name.
I found all the biographies to be engaging and informative. For example, take the story of Hypatia of Alexandria (355 or 370-415 AD). I was a serious lunar observer in my youth and I remember seeing the crater Hypatia on my maps.
Before reading The Women of the Moon, I had no idea of what, or who, Hypatia was named after. I subsequently learned the crater was named for Hypatia, an accomplished mathematician, astronomer, and philosopher who lived through turbulent times and eventually met a grisly death.
The biographies are followed by appendices covering the moon's vital statistics and its role in creating the tides. The book's clear writing style is complemented by relevant, high-quality graphics and photos. Finally, the quality of the printing, paper, and binding give The Women of the Moon the look and feel of a fine book.
Astronomy and science history enthusiasts should consider adding this informative and interesting read to their book shelf or buying it for a young woman interested in STEM.
Brian Webb
Taklamakan Desert
A fine veil of dust shrouded China's western Taklamakan Desert as snow and cloud shrouded the eastern Pamirs in late November 2019. The Moderate Resolution Imaging Spectroradiometer (MODIS) on board NASA's Aqua satellite acquired a true-color image of the region on November 19. Aqua was launched from California's Vandenberg AFB in 2002. Image courtesy of NASA
NASA Soil Data Joins the Air Force
(NOV 19) PASADENA, Calif. - Personnel with the Air Force's 557th Weather Wing are using soil moisture data from a spacecraft launched from Vandenberg AFB to support U.S. military operations. More
NASA's Mars 2020 Will Hunt for Microscopic Fossils
(NOV 12) Scientists with NASA's Mars 2020 rover have discovered what may be one of the best places to look for signs of ancient life in Jezero Crater, where the rover will land on Feb. 18, 2021. More
Starliner Completes Pad Abort Test
Boeing's CST-100 Starliner's four launch abort engines and several orbital maneuvering and attitude control thrusters ignite in the company's Pad Abort Test, pushing the spacecraft away from the test stand with a combined 160,000 pounds of thrust, from Launch Complex 32 on White Sands Missile Range in New Mexico. Photo courtesy of NASA

(NOV 4) WHITE SANDS, N.M. – Boeing today cleared a crucial test on the way to returning the United States to human spaceflight launch capabilities by completing a successful pad abort test of the CST-100 Starliner.

During the two-minute test designed to simulate a launch pad emergency, an uncrewed Starliner spacecraft lifted off under its own power from a test stand at the U.S. Army's White Sands Missile Range in New Mexico. The vehicle was able to demonstrate the proper performance of numerous integrated systems that would be needed to successfully propel the capsule away from its Atlas V launch vehicle at any point during the ascent.

At T-0 in the countdown, Starliner fired its four launch abort engines (LAEs) and several orbital maneuvering and attitude control (OMAC) thrusters. With 190,000 pounds of thrust, the spacecraft quickly pushed up and away from the test stand, showcasing how fast the system can whisk crews away from danger if necessary. The vehicle flew nearly a mile in just under 20 seconds before deploying its forward heat shield and parachutes.

Nearly 34 seconds into the test, the service and crew modules separated. As the crew module descended slowly to a safe landing under the parachutes, the service module continued to free fall as planned.

Just over a minute into the test, the vehicle's base heat shield separated, allowing the Starliner spacecraft's air bags to deploy and inflate in preparation for landing. The crew module touched down 95 seconds after the abort engines fired.

Over the next 24 hours, Starliner's crew module will be recovered for evaluation and analysis. Conducting this test over ground helps to preserve the crew module for reuse, and Boeing will use the data from this test to further validate system performance during nominal landing operations. Starliner is designed to be the first American-made orbital crew capsule to land on land, which will help make the crew modules reusable up to 10 times.

Boeing
Armoring Satellites to Survive and Operate through Attacks
Sandia National Laboratories' Drew Woodbury works on a flat-sat assembly designed to prove software and cyber defense algorithms work before deploying them on orbiting satellites. (Photo by Meagan Brace)
(OCT 21) ALBUQUERQUE, N.M. — Satellites do a lot of things — they help people navigate from one place to another, they deliver television programming, they search for new stars and exo-planets and they enable the U.S. nuclear deterrence strategy. More
Dream Chaser Spacecraft Primary Structure Arrives in Colorado
(OCT 15) SPARKS, Nev. – Sierra Nevada Corporation (SNC), the global aerospace and national security leader owned by Chairwoman and President Eren Ozmen and CEO Fatih Ozmen, announces the arrival of the primary vehicle structure to the company's Colorado production facility, kicking off full assembly of the Dream Chaser® spacecraft ahead of its first mission for NASA in 2021. The structure is the largest piece of technology to make up Dream Chaser and the most advanced high-temperature composite spaceframe ever built.
The primary structure is a pressurized composite structure that will contain pressurized payloads heading to the International Space Station. The structure was manufactured by subcontractor Lockheed Martin and recently shipped from their Fort Worth, Texas facility to Louisville, Colorado, where Dream Chaser is being built and integrated by SNC.
Highlights about the design:
Uses advanced composite 3D woven assembly methods and represents the most advanced high-temperature composite spaceframe ever built.

Structure is about 30 feet long by 15 feet wide and approximately 6 feet high and weighs roughly 2,200 pounds.

Materials include carbon fiber reinforced polymers (CFRPs), more traditionally referred to as "composites."

The use of CFRP materials instead of aluminum and titanium alloys, lowers manufacturing costs for creating a unique, aerodynamically complex spaceframe design. *Composites decrease the amount of thermal protection required compared to an aluminum primary structure.

Advanced 3D woven construction minimize penetrations to the hot lower aeroshell.
Dream Chaser is scheduled to launch starting in late 2021 for at least six cargo resupply and return services to the International Space Station for NASA under the Commercial Resupply Services 2 (CRS-2) contract. The Dream Chaser Cargo System can carry up to 12,000 pounds of supplies and other cargo, and returns delicate science to Earth with a gentle runway landing.
Sierra Nevada Corporation
Air Force Awards $986M for Launch Services
(OCT 12) Space Exploration Technologies Corp., Hawthorne, Calif.; Xbow Launch Systems Inc., Auburn, Calif.; Northrop Grumman Innovation Systems, Chandler, Ariz.; Firefly Black LLC, Cedar Park, Tex.; United Launch Alliance, Centennial, Colo.; Aevum Inc., Huntsville, Ala.; VOX Space LLC., El Segundo, Calif.; and Rocket Lab USA Inc., Huntington Beach, Calif., have been awarded a combined ceiling $986,000,000 multiple-award contract with a nine year ordering period. The contract seeks to capitalize on the emerging small launch providers while providing dedicated and primary launch services to the Department of Defense and other government agencies. The program allows for the rapid acquisition of launch services to meet mission requirements for payloads greater than 400 pounds, enabling launch to any orbit within 12-24 months from task order award. Work will be performed at the contractor facilities and a variety of government launch sites, depending on mission requirements. The Space and Missile Systems Center, Kirtland Air Force Base, New Mexico, is the contracting activity.
Department of Defense
Minuteman III Launches From Vandenberg
An unarmed Minuteman III intercontinental ballistic missile launches during an operational test at 1:13 a.m. Pacific Time Oct. 2 at Vandenberg Air Force Base, Calif. (U.S. Air Force photo by Michael Peterson)
(OCT 2) VANDENBERG AIR FORCE BASE, Calif. -- An unarmed Minuteman III intercontinental ballistic missile was launched during an operational test Wednesday, Oct. 2, at 1:13 a.m. Pacific Time from north Vandenberg.
Col. Anthony Mastalir, 30th Space Wing commander, was the launch decision authority.
"Here at the 30th Space Wing, we are committed to providing robust range support, which contributes to mission assurance for our partner, Air Force Global Strike Command," Mastalir said. "The Western Range is a critical part of the ICBM test and evaluation program, which lends to the credibility of our Nation's strategic deterrent. Our Airmen can be very proud of their contributions to the security of our country."
Vandenberg AFB
Northrop Grumman Awarded DSP Contract Modification
(SEP 27) Northrop Grumman Corp., Aerospace Systems, Azusa, California, has been awarded a $23,454,970 modification (P00031) to a previously awarded contract FA8810-15-C-0001 for the Defense Support Program (DSP) on-orbit satellite and anomaly resolution support. This support provides root cause analysis as a key component of the lifetime extension of DSP. Work will be performed in Azusa, California; Aurora, Colorado; and Colorado Springs, Colorado, and is expected to be completed by June 30, 2020. The total cumulative face value is $132,431,047. Fiscal 2020 operations and maintenance funds are being used and no funds are being obligated at the time of the award. The Space and Missile Systems Center, Peterson Air Force Base, Colorado, is the contracting activity.
Department of Defense
Hurricane Humberto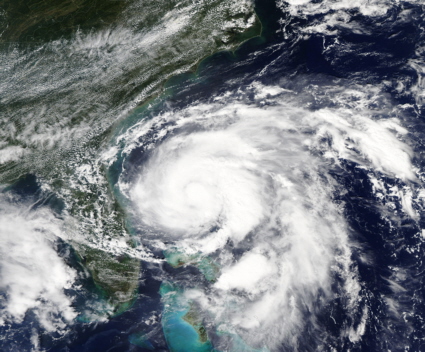 Since its launch from Vandenberg AFB, Calif. in 2002, NASA's Aqua spacecraft has returned numerous detailed images of Earth. In this recent example, Hurricane Humberto swirls in the Atlantic Ocean east of Florida. Aqua imaged the storm during a daylight pass on September 15. Image Credit: MODIS Land Rapid Response Team, NASA GSFC
4th Space Operations Squadron Improves Space Warfighting Capabilities
(SEP 16) SCHRIEVER AIR FORCE BASE, Colo. -- The 4th Space Operations Squadron completed the first successful on-orbit testing of the Wideband Global SATCOM-10 satellite at Schriever Air Force Base, Colorado, Aug. 26-28. More
NASA Funds CubeSat Pathfinder Mission to Unique Lunar Orbit
(SEP 13) WASHINGTON, D.C. - NASA has awarded a $13.7 million contract to Advanced Space of Boulder, Colorado, to develop and operate a CubeSat mission to the same lunar orbit targeted for Gateway – an orbiting outpost astronauts will visit before descending to the surface of the Moon in a landing system as part of NASA's Artemis program.
The Cislunar Autonomous Positioning System Technology Operations and Navigation Experiment (CAPSTONE) is expected to be the first spacecraft to operate in a near rectilinear halo orbit around the Moon. In this unique orbit, the CubeSat will rotate together with the Moon as it orbits Earth and will pass as close as 1,000 miles and as far as 43,500 miles from the lunar surface.
The pathfinder mission represents a rapid lunar flight demonstration and could launch as early as December 2020. CAPSTONE will demonstrate how to enter into and operate in this orbit as well as test a new navigation capability. This information will help reduce logistical uncertainty for Gateway, as NASA and international partners work to ensure astronauts have safe access to the Moon's surface. It will also provide a platform for science and technology demonstrations.
The 12-unit CubeSat is about the size of a small microwave oven. Onboard is a communications system capable of determining how far CAPSTONE is from NASA's Lunar Reconnaissance Orbiter and how fast the distance between the two spacecraft is changing. The inter-spacecraft information will be used to demonstrate software for autonomous navigation, allowing future missions to determine their location without having to rely exclusively on tracking from Earth.
A number of launch options are possible for the mission, including being the primary payload on a small spacecraft launch vehicle. After launch, CAPSTONE will take approximately three months to enter its target orbit and begin a six-month primary demonstration phase to understand operations in this unique regime.
NASA
USS Nebraska Tests Four Trident II D5 Missiles
An unarmed Trident II D5 missile launches from the Ohio-class ballistic missile submarine USS Nebraska (SSBN 739) off the California coast, September. 4. The test launch was one of four conducted September 4 and 6 as part of a U.S. Navy Commander Evaluation Test, validating performance expectations of the life-extended Trident II D5 strategic weapon system. U.S. Navy photo
(SEP 6) SAN DIEGO, Calif. -- The U.S. Navy conducted four scheduled missile test flights of unarmed Trident II (D5) missiles from USS Nebraska (SSBN-739), an Ohio-class ballistic missile submarine, off the coast of Southern California this week. More
Why Are Sunsets Turning Purple?
(AUG 27) Every year, on average, about 60 volcanoes erupt somewhere on Earth, shooting ashy plumes of sulfurous gas thousands of feet into the air. Rarely do those plumes make it all the way up to the stratosphere. This summer, however, two volcanoes have done it. The Raikoke volcano in the Kirul Islands (June 22nd) and the Ulawun volcano in New Guinea (Aug. 3rd) both punched through to the stratosphere, sending material as high as 60,000 ft.
The action of these two volcanoes may explain why many sky watchers are starting to notice purple sunsets.
Why purple? Fine volcanic aerosols in the stratosphere scatter blue light which, when mixed with ordinary sunset red, produces a violet hue. The purple color is often preceded by a yellow arch hugging the horizon. As the sun sets, violet beams emerge from the yellow, overlapping to fill the western sky with a soft purple glow. High-quality pictures of the phenomenon often show horizontal bands cross-crossing the yellow arch. These bands are the volcanic gas.
Sky watchers shouldn't expect to see purple every night. The volcanic gas appears to be patchily distributed, bringing strange sunsets on some nights, not all. Clear air, lack of clouds, and country settings improves their visibility.
Spaceweather.com
Water Weight
This recently released image shows the Mississippi River Basin bearing the weight of 8 to 12 inches (200 to 300 millimeters) more water than average due to Midwestern flooding. The view was created from data gathered by the twin Gravity Recovery and Climate Experiment Follow-On (GRACE-FO) spacecraft in May. The GRACE-FO mission was launched from Vandenberg AFB in 2018 and is managed by the Jet Propulsion Laboratory in Pasadena, Calif. Image courtesy NASA/JPL-Caltech
Mission to Jupiter's Icy Moon Confirmed
(AUG 19) PASADENA, Calif. - An icy ocean world in our solar system that could tell us more about the potential for life on other worlds is coming into focus with confirmation of the Europa Clipper mission's next phase. The decision allows the mission to progress to completion of final design, followed by the construction and testing of the entire spacecraft and science payload.
"We are all excited about the decision that moves the Europa Clipper mission one key step closer to unlocking the mysteries of this ocean world," said Thomas Zurbuchen, associate administrator for the Science Mission Directorate at NASA Headquarters in Washington. "We are building upon the scientific insights received from the flagship Galileo and Cassini spacecraft and working to advance our understanding of our cosmic origin, and even life elsewhere."
The mission will conduct an in-depth exploration of Jupiter's moon Europa and investigate whether the icy moon could harbor conditions suitable for life, honing our insights into astrobiology. To develop this mission in the most cost-effective fashion, NASA is targeting to have the Europa Clipper spacecraft complete and ready for launch as early as 2023. The agency baseline commitment, however, supports a launch readiness date by 2025.
NASA's Jet Propulsion Laboratory in Pasadena, California, leads the development of the Europa Clipper mission in partnership with the Johns Hopkins University Applied Physics Laboratory for the Science Mission Directorate. Europa Clipper is managed by the Planetary Missions Program Office at NASA's Marshall Space Flight Center in Huntsville, Alabama.
Jet Propulsion Laboratory
SNC Selects ULA for Dream Chaser® Launches
(AUG 14) SPARKS, Nev. – Sierra Nevada Corporation (SNC), the global aerospace and national security leader owned by Chairwoman and President Eren Ozmen and CEO Fatih Ozmen, selected United Launch Alliance (ULA) as the launch vehicle provider for the Dream Chaser® spacecraft's six NASA missions to the International Space Station. The Dream Chaser will launch aboard ULA's Vulcan Centaur rockets for its cargo resupply and return services to the space station, starting in 2021.
"Dream Chaser can launch from any conventional rocket so we had great options," said SNC CEO Fatih Ozmen. "SNC selected ULA because of our strong collaboration on the Dream Chaser program, their proven safety record and on-time performance. This is bringing America's spaceplane and America's rocket together for best-of-breed innovation and exploration."
Under NASA's Commercial Resupply Services 2 (CRS-2) contract, the Dream Chaser will deliver more than 12,000 pounds of pressurized and unpressurized cargo to the space station and remains attached for up to 75 days as an orbiting laboratory. Once the mated mission is complete, the Dream Chaser disposes about 7,000 pounds of space station trash and returns large quantities of critical science, accessible within minutes after a gentle runway landing.
SNC's Louisville, Colorado-based Space Systems division is proudly partnering with Centennial, Colorado's ULA, boosting the already strong aerospace economic footprint in the state.
Vulcan Centaur's flight proven design, coupled with innovative technology, is transforming the future of space launch. The new rocket will provide higher performance and greater affordability while continuing to deliver unmatched reliability and precision. Approximately 90 percent of all of Vulcan Centaur's components will be flown first on Atlas V missions, so that its first flight will have reduced risk. Vulcan Centaur is a new class of space launch vehicle with the performance of a heavy launch vehicle in just a single core.
Owned and operated by SNC, the Dream Chaser spacecraft is a reusable, multi-mission space utility vehicle. It is capable of transportation services to and from low-Earth orbit and is the only commercial, lifting-body vehicle capable of a runway landing. The Dream Chaser Cargo System was selected by NASA to provide cargo delivery and disposal services to the International Space Station under the Commercial Resupply Services 2 (CRS-2) contract. All Dream Chaser CRS-2 cargo missions are planned to land at Kennedy Space Center's Shuttle Landing Facility.
Sierra Nevada Corporation
Hot Fire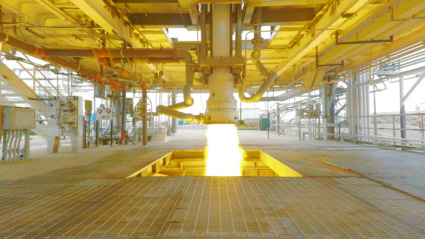 An Orion spacecraft propulsion system undergoes a test firing on August 5 at NASA's White Sands Test Facility near Las Cruces, New Mexico. The test simulated an abort-to-orbit scenario. Orion is a U.S.-European spacecraft designed to carry astronauts to orbit and beyond. Image courtesy of NASA
Rocket Lab to Reuse Electron Rocket
(AUG 6) HUNTINGTON BEACH, Calif. - Rocket Lab, the global leader in dedicated small satellite launch, has revealed plans to recover and re-fly the first stage of its Electron launch vehicle. The move aims to enable Rocket Lab to further increase launch frequency by eliminating the need to build a new first stage for every mission.
Work on Rocket Lab's Electron first stage reuse program began in late 2018, at the end of the company's first year of orbital launches. The plan to reuse Electron's first stage will be implemented in two phases. The first phase will see Rocket Lab attempt to recover a full Electron first stage from the ocean downrange of Launch Complex 1 and have it shipped back to Rocket Lab's Production Complex for refurbishment. The second phase will see Electron's first stage captured mid-air by helicopter, before the stage is transported back to Launch Complex 1 for refurbishment and relaunch. Rocket Lab plans to begin first stage recovery attempts in the coming year.
A major step towards Rocket Lab's reusability plans was completed on the company's most recent launch, the Make It Rain mission, which launched on 29 June from Launch Complex 1. The first stage on this mission carried critical instrumentation and experiments that provided data to inform future recovery efforts. The next Electron mission, scheduled for launch in August, will also carry recovery instrumentation.
Rocket Lab
Raytheon, DARPA Complete Hypersonic Weapon Design Review
(JUL 29) TUCSON, Ariz. -- Raytheon Company (NYSE: RTN) and DARPA completed a successful baseline design review for the Tactical Boost Glide hypersonic weapons program, establishing the company's technical approach for a critical design review and moving the system a step closer to development and use.
A boost glide weapon uses a rocket to accelerate its payload and achieve hypersonic speeds – velocities greater than Mach 5. During flight, the payload separates from the rocket and glides unpowered to its destination.
"We understand the urgency of the need and are working fast to deliver this advanced technology to our nation's military," said Dr. Thomas Bussing, Raytheon Advanced Missile Systems vice president. "The goal is to keep America ahead of emerging threats, and we are well on our way."
The U.S. military will use hypersonic weapons to engage from longer ranges with shorter response times and with greater effectiveness than current weapon systems.
Earlier this year, Raytheon received a $63 million DARPA contract to further develop the Tactical Boost Glide program, a joint effort between the agency and the U.S. Air Force.
Raytheon
Europe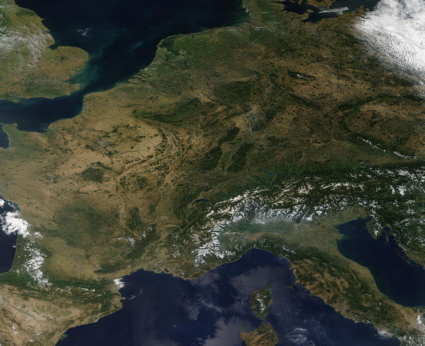 On July 23 skies were clear over much of Europe, allowing the Moderate Resolution Imaging Spectroradiometer (MODIS) on board NASA's Terra satellite to acquire a true-color, sweeping image that stretches from Poland (east) to Spain (west). Terra was launched from Vandenberg AFB, Calif. in 1999. Image courtesy MODIS Land Rapid Response Team, NASA GSFC
Maxar Chosen to Integrate Pollution Payload
(JUL 22) WESTMINSTER, Colo.-- Maxar Technologies today announced that it will integrate and fly NASA's Tropospheric Emissions: Monitoring of Pollution (TEMPO) instrument on a 1300-class satellite in geostationary (GEO) orbit. TEMPO will be the first space-based instrument to provide hourly monitoring of major air pollutants during the daytime across the North American continent at high spatial resolution.
TEMPO is a UV-visible spectrometer that will observe Earth from a vantage point about 22,000 miles above Earth's equator. It will detect pollutants by measuring sunlight reflected and scattered from Earth's surface and atmosphere. The resulting data from TEMPO will be used to enhance air quality forecasts in North America, enabling more effective early public warning of pollution incidents.
Maxar previously completed a study to accommodate TEMPO on a commercial GEO satellite. Building on the successful completion of the study, Maxar has been selected to integrate and fly the TEMPO payload. The instrument is currently slated for launch by 2022.
Maxar Technologies
Breakthrough Listen launches New Optical Search with VERITAS Telescope Array
(JUL 17) SANTA CRUZ, Calif. - The Breakthrough Listen initiative to find signs of intelligent life in the universe will collaborate with the VERITAS Collaboration in the search for technosignatures, signs of technology developed by intelligent life beyond the Earth. More
Virgin Orbit Completes Key Drop Test
Virgin Orbit's LauncherOne rocket falls from its launch aircraft during a drop test over Edwards AFB, Calif. on July 10. The test marked the beginning of the California-based company's transition to its orbital test flight launch campaign. Image courtesy Virgin Orbit
(JUL 10) Mojave, California — Virgin Orbit, Sir Richard Branson's small satellite launch company, announced today that it has successfully completed a key drop test of its LauncherOne vehicle, the last major step in the development program of the company's novel launch service. More
Sunspots from the Next Solar Cycle
(JUL 2) Solar Minimum won't last forever. How do we know? Because this week a cluster of small sunspots from the next solar cycle bubbled up to the surface of the sun. The dark cores didn't last long, but they had the unmistakable magnetic signature of Solar Cycle 25. Visit today's edition of Spaceweather.com for more information.
Spaceweather.com
Robot Arm
On June 21, engineers at NASA's Jet Propulsion Laboratory (JPL) in Pasadena, Calif. install the main robotic arm on the Mars 2020 rover (click to enlarge). Measuring 7 feet (2.1 meters) long, the arm will allow the rover to work as a human geologist would: by holding and using science tools with its turret. JPL is building and will manage operations of the Mars 2020 rover for the NASA Science Mission Directorate in Washington, D.C. Image courtesy NASA/JPL-Caltech
Starliner Space Capsule Completes Parachute Testing
(JUN 25) WHITE SANDS, N.M. — Boeing cleared another milestone toward launching its Starliner space capsule with the fifth, and final, qualification test of the vehicle's parachute system.
The final test was the most difficult. Two parachutes were disabled on a Starliner test article that was dropped from a balloon at an altitude of 40,000 feet. During a four-minute descent, the other parachutes deployed and the capsule touched down as planned at the U.S. Army's White Sands Missile Range. That installation will be a primary landing site for missions, as Starliner will be the first orbital American capsule to land on land rather than water.
Each Starliner will carry more than half a dozen parachutes, which are manufactured by Airborne Systems of Santa Ana, Calif. Airbags made by Delaware's ILC Dover will cushion Starliner at landing. Those airbags and other landing systems have already been qualified for crews through rigorous test programs. During the latest test, one out of the two drogue parachutes and one out of the three main parachutes were intentionally disabled.
The first Starliner launch, from Florida's Kennedy Space Center, is expected this summer. A United Launch Alliance Atlas V rocket will send an uncrewed Starliner to the space station for a week-long stay. After that, Boeing astronaut Chris Ferguson, and NASA astronauts Mike Fincke and Nicole Mann, could make the first crewed Starliner flight by year's end.
Ferguson, Fincke, and Mann may be the first Americans launched from American soil since the space shuttle retired in 2011. Ferguson commanded that final shuttle mission. Also, Mann will be the first female astronaut on the first flight of a new space vehicle.
For more information on Defense, Space & Security, visit www.boeing.com. Follow us on Twitter: @BoeingDefense and @BoeingSpace.
Boeing
SpinLaunch Secures First Launch Services Contract
(JUN 19) LONG BEACH, Calif.--Jonathan Yaney, founder and CEO of SpinLaunch, has announced that the company has been awarded a responsive launch prototype contract from the Department of Defense (DOD), facilitated by the Defense Innovation Unit (DIU).
SpinLaunch is developing a kinetic energy-based launch system that will provide the world's lowest-cost orbital launch services for the rapidly growing small satellite industry. In 2018, the company received $40 million in a Series A financing round from Airbus Ventures, Google Ventures and Kleiner Perkins.
The recently published State of the Space Industrial Base states that the future and growth of the U.S. space economy is "critically dependent on continuing reductions in the costs and risks associated with launch. There is a bifurcation of launch providers between lower-cost, 'bulk' carriers...and higher-cost, 'niche' providers offering lower lift-mass, but launch to a specific orbit."
"SpinLaunch fills this gap by providing dedicated orbital launch with high frequency at a magnitude lower cost than any current 'niche' launch system," stated Yaney. "This will truly be a disruptive enabler for the emerging commercial space industry. There is a promising market surge in the demand for LEO constellations of inexpensive small satellites for disaster monitoring, weather, reconnaissance, communications and other services."
In January 2019, SpinLaunch moved from Silicon Valley to its new 140,000 square foot headquarters in Long Beach, California and last month broke ground on a new $7 million test facility on 10 acres at New Mexico's Spaceport America. First kinetic energy flight tests are expected to occur early 2020 and the company has announced its plans for first launch by 2022.
SpinLaunch
Utah from Space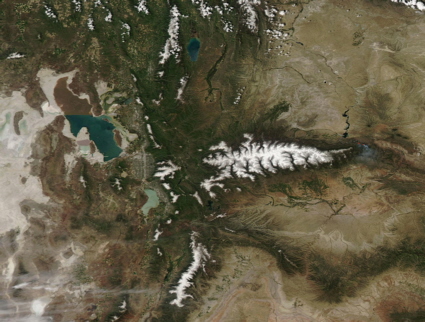 NASA's Aqua satellite flew over Utah on June 6, allowing the Moderate Resolution Imaging Spectroradiometer on board to acquire a colorful true-color image (click to enlarge) of sand, snow, salt and forest. The primary background tones in this part of Utah are browns and tans—the colors of rock and sand where scant vegetation grows. Dark green marks vegetated areas, primarily forests on the slopes of tall mountains of the Wasatch Range (running roughly north to south near the center of the image) and the Uinta Mountains. White snow blankets the mountain tops, especially of the Uinta. Image Credit: MODIS Land Rapid Response Team, NASA GSFC
Falcon 9 Launch and Landing Successful
(JUN 12) VANDENBERG AIR FORCE BASE, Calif. -- Team Vandenberg supported the successful launch and landing of a SpaceX Falcon 9 rocket carrying the RADARSAT Constellation Mission from Space Launch Complex 4 Wednesday, June 12, at 7:17 a.m. Pacific Time.
The first stage of the Falcon 9 rocket landed at Landing Zone 4 approximately eight minutes after liftoff. This was SpaceX's second successful landing at Vandenberg Air Force Base.
Col. Bob Reeves, 30th Space Wing vice commander, was the space launch commander.
"Access to space is vital for space superiority," said Reeves. "Team V remains diligent in its efforts to provide robust range capabilities in a safe and efficient manner so our mission partners, like SpaceX, continue to have unfettered access to space. This mission highlights, yet again, our capabilities as a spaceport for the nation."
Vandenberg AFB
Orion Abort Motor Shipped to Kennedy
(JUN 4) MAGNA, Utah – June 4, 2019 – Northrop Grumman Corporation (NYSE: NOC) shipped the inert abort motor for NASA's Orion spacecraft Launch Abort System (LAS) from the Northrop Grumman facility in Magna, Utah, to Kennedy Space Center, Florida. It will be integrated with the LAS and Orion spacecraft destined for the first flight of NASA's Space Launch System, designated Artemis 1.
The abort motor is a key component of the LAS, which provides an enhancement in spaceflight safety for astronauts. The shipment of the abort motor brings Orion one step closer to Artemis 1 and to enabling humans to explore the moon, Mars and other deep-space destinations beyond low-Earth orbit.
The purpose of Orion's LAS is to safely pull the spacecraft and crew out of harm's way in the event of an emergency on the launch pad or during initial launch ascent. The abort motor underwent a series of component tests culminating in a successful static test in December 2018 at the Northrop Grumman facility in Promontory, Utah. Data from these tests confirmed motor activation within milliseconds and under both extreme cold and hot temperatures, ensuring crew safety.
The abort motor, which stands over 17 feet tall and spans three feet in diameter, is unique in that it has a manifold with four exhaust nozzles. The motor, shipped via thoroughfare in a transporter, will be unloaded at Kennedy Space Center. Integrating the abort motor is the first step in Orion's LAS integration process.
Northrop Grumman's next major abort motor milestone is the Ascent Abort-2 Flight Test (AA-2) set to take place at Cape Canaveral Air Force Station, Florida, in early July. In addition to the launch abort motor, Northrop Grumman is providing the launch vehicle designed to simulate an SLS launch for AA-2. The abort will take place during Max-Q, when the dynamic pressure on the spacecraft is greatest.
Northrop Grumman is responsible for the launch abort motor through a contract to Lockheed Martin, Orion's prime contractor. The Orion LAS program is managed out of NASA's Langley Research Center in Virginia. Northrop Grumman produces the abort motor at its Magna, Utah facility and the attitude control motor for the LAS at the company's Elkton, Maryland facility. The company also manufactures the composite case for the abort motor at its facility in Clearfield, Utah.
ULA Completes Design Review for Vulcan Centaur Rocket
(MAY 20) Centennial, Colo. – United Launch Alliance leaders and engineers completed an important milestone with the conclusion of the system Critical Design Review (CDR) for the company's new Vulcan Centaur rocket. The system-level CDR is the final review of the design for the overall rocket.
The system CDR was a week-long detailed review of the entire Vulcan Centaur system with the primary focus to verify all of the elements will work properly together as a system. As part of the certification process with the U.S. Air Force, Air Force representatives are included as part of the design review.
When the first Vulcan Centaur rocket flies in less than two years, a high percentage of the rocket will have flown before on ULA's Atlas launch vehicle including the fairing, upper stage engines in a dual configuration, avionics, software and solid rocket motors.
ULA and its suppliers have invested in and modernized the factory in Decatur, Alabama, bringing in state-of-the art manufacturing technologies. Flight hardware is already being built for the first flight, and the production is on schedule for the initial launch in 2021.
With more than a century of combined heritage, ULA is the world's most experienced and reliable launch service provider. ULA has successfully delivered more than 130 satellites to orbit that provide Earth observation capabilities, enable global communications, unlock the mysteries of our solar system, and support life-saving technology.
For more information on ULA, visit the ULA website at www.ulalaunch.com, or call the ULA Launch Hotline at 1-877-ULA-4321 (852-4321). Join the conversation at www.facebook.com/ulalaunch, twitter.com/ulalaunch and instagram.com/ulalaunch.
United Launch Alliance
City of Stars
A small satellite designed to hunt for new planets beyond the solar system recently looked down at Earth to capture an image of California's "City of Stars." The greater Los Angeles area stands out in this view from ASTERIA, a satellite not much larger than a briefcase. The image reveals a massive grid of illuminated city streets and freeways. A bright spot near the center of the view marks the location of Dodger Stadium and the Port of Long Beach is visible near the lower center. ASTERIA was developed at the Jet Propulsion Laboratory (JPL) in Pasadena, Calif., and the mission is a collaboration with the Massachusetts Institute of Technology (MIT). Image courtesy of NASA/JPL-Caltech
Raytheon to Install GPS Receivers
(MAY 13) AURORA, Colo. -- Raytheon Company's (NYSE: RTN) GPS Next-Generation Operational Control System program, known as GPS OCX, completed final qualification testing of the system's modernized monitor station receivers, which are now ready to be installed around the world starting in August. GPS OCX is the enhanced ground control segment of a U.S. Air Force-led effort to modernize America's GPS system.
"The modernized receivers give GPS OCX the ability to receive and decrypt all GPS III military and civil signals, a critical capability the current system doesn't have," said Dave Wajsgras, president of Raytheon Intelligence, Information and Services. "Monitor station receiver installation keeps us on track for full system delivery by our June 2021 contractual deadline."
The modernized receivers will measure and monitor legacy military and civilian signals sent by the current GPS satellite constellation plus the new signals sent by the next-generation GPS III. The receivers will also feed correction models at the master control station, giving U.S. Air Force satellite controllers the information necessary to make key adjustments to maximize accuracy.
Raytheon
Minuteman III Launches from Vandenberg
(MAY 9) VANDENBERG AIR FORCE BASE, Calif. -- An unarmed Minuteman III intercontinental ballistic missile was launched during an operational test Thursday, May 9, at 12:40 a.m. Pacific Time from north Vandenberg.
Col. Kris Barcomb, the 30th Operations Group commander, was the launch decision authority.
"It is our mission at the 30th Space Wing to provide robust and efficient range capabilities for the nation, and to do so safely and effectively," Barcomb said. "The Western Range plays an integral role in national security, and our ICBM test launch program helps maintain the credibility of our nuclear deterrent. Launching two Minuteman III intercontinental ballistic missiles one week apart is a true testament to the capabilities of Team Vandenberg."
Vandenberg AFB
Minuteman III Launches from Vandenberg
An unarmed Minuteman III intercontinental ballistic missile launches during a operational test at 2:42 A.M. Pacific Time May 1, 2019, at Vandenberg Air Force Base, Calif. (U.S. Air Force photo by Staff Sgt. Brittany E. N. Murphy)
(MAY 1) VANDENBERG AIR FORCE BASE, Calif. -- An unarmed Minuteman III intercontinental ballistic missile was launched during an operational test at 2:42 a.m. PT, here, May 1.
Col. Kris Barcomb, 30th Operations Group commander, was the launch decision authority.
"The partnership between the 30th Space Wing and our Air Force Global Strike Command mission partners has culminated in another safe Minuteman III operational test launch," Barcomb said. "The tireless effort put forth by the 90th Missile Wing, 576th Flight Test Squadron and 30th Space Wing is simply remarkable. Their teamwork and combined efforts over the past few months showcase their immense dedication to the mission and why they are some of the best operators in the Air Force."
Vandenberg AFB
InSight Detects First Likely Marsquake
(APR 23) PASADENA, Calif. - NASA's Mars InSight lander has measured and recorded for the first time ever a likely "marsquake."
The faint seismic signal, detected by the lander's Seismic Experiment for Interior Structure (SEIS) instrument, was recorded on April 6, the lander's 128th Martian day, or sol. This is the first recorded trembling that appears to have come from inside the planet, as opposed to being caused by forces above the surface, such as wind. Scientists still are examining the data to determine the exact cause of the signal.
The new seismic event was too small to provide solid data on the Martian interior, which is one of InSight's main objectives. The Martian surface is extremely quiet, allowing SEIS, InSight's specially designed seismometer, to pick up faint rumbles. In contrast, Earth's surface is quivering constantly from seismic noise created by oceans and weather. An event of this size in Southern California would be lost among dozens of tiny crackles that occur every day.
Most people are familiar with quakes on Earth, which occur on faults created by the motion of tectonic plates. Mars and the Moon do not have tectonic plates, but they still experience quakes - in their cases, caused by a continual process of cooling and contraction that creates stress. This stress builds over time, until it is strong enough to break the crust, causing a quake.
SEIS has surpassed the team's expectations in terms of its sensitivity. The instrument was provided for InSight by the French space agency, Centre National d'Études Spatiales (CNES), while these first seismic events were identified by InSight's Marsquake Service team, led by the Swiss Federal Institute of Technology.
JPL manages InSight for NASA's Science Mission Directorate. InSight is part of NASA's Discovery Program, managed by the agency's Marshall Space Flight Center in Huntsville, Alabama. Lockheed Martin Space in Denver built the InSight spacecraft, including its cruise stage and lander, and supports spacecraft operations for the mission.
Jet Propulsion Laboratory
Mars 2020
Major components of NASA's Mars 2020 mission come together in a clean room at the Jet Propulsion Laboratory in Pasadena, Calif. JPL will build and manage operations of the Mars 2020 rover for the NASA's Science Mission Directorate in Washington, D.C. Image courtesy NASA/JPL-Caltech
Scientists Use Asteroid to Measure Smallest Star Size to Date
(APR 16) BERLIN, Germany & AMADO, Ariz. — Scientists in the VERITAS (Very Energetic Radiation Imaging Telescope Array System) Collaboration have published a paper in Nature Astronomy journal detailing the results of their work with the VERITAS array—located at the Center for Astrophysics' Fred Lawrence Whipple Observatory in Amado, Arizona—to measure the smallest apparent size of stars in the night sky known to date. More
SpaceX Chosen to Launch Asteroid Mission from Vandenberg
(APR 11) NASA has selected SpaceX in Hawthorne, California, to provide launch services for the agency's Double Asteroid Redirection Test (DART) mission, the first-ever mission to demonstrate the capability to deflect an asteroid by colliding a spacecraft with it at high speed – a technique known as a kinetic impactor.
The total cost for NASA to launch DART is approximately $69 million, which includes the launch service and other mission related costs.
The DART mission currently is targeted to launch in June 2021 on a Falcon 9 rocket from Space Launch Complex 4E at Vandenberg Air Force Base in California. By using solar electric propulsion, DART will intercept the asteroid Didymos' small moon in October 2022, when the asteroid will be within 11 million kilometers of Earth.
NASA's Launch Services Program at Kennedy Space Center in Florida will manage the SpaceX launch service. The DART Project office is located at the Johns Hopkins Applied Physics Laboratory in Laurel, Maryland, and is managed by the Planetary Missions Program Office at Marshall Space Flight Center in Huntsville, Alabama, for NASA's Planetary Defense Coordination Office in Washington.
For more information about NASA programs and missions, visit:
NASA
Cygnus A
The National Radio Astronomy Observatory recently released this first-ever direct image (click to enlarge) of the center of Cygnus A, one of the most powerful radio galaxies in the universe. The view was created using data from the Very Large Array radio telescope in New Mexico and reveals a dusty, doughnut-shaped feature surrounding the supermassive black hole at the core. Image credit: Carilli et al., NRAO/AUI/NSF
Air Force and Raytheon to Modernize SPADOC
(APR 3) COLORADO SPRINGS, Colo. -- The U.S. Air Force Life Cycle Management Center and a consortium of tech firms led by Raytheon (NYSE: RTN) are modernizing and simplifying the legacy Space Defense Operations Center, a 1990s-era system that tracks and monitors space debris.
Dave Fuino, program director for Raytheon Intelligence, Information and Services, said: "Within just a few months we brought together a team, developed the technology to modernize it, got it on contract and held a series of demos to prove it worked. We went from concept to proving the solution in less than a year, which is really remarkable."
The SPADOC system reached the end of its planned service life. The U.S. Air Force is planning to replace it with modern systems that will simplify operations and provide greater space situational awareness and collision avoidance capabilities. However, the new system won't come online for several years.
"SPADOC provides critical space-tracking capabilities that we must sustain and maintain while we wait for new systems to come online," said Bob Taylor, U.S. Air Force Legacy Space Branch chief. "At the same time, it's critical that we address the obsolescence risk of an aging SPADOC system. So we came up with a really innovative, modern solution to this problem."
Raytheon and AFLCMC decided to emulate SPADOC's capabilities with modern computer hardware. The new emulated environment, SPADOC Emulation Analysis Risk Reduction, known as SPEARR, is designed to provide a more sustainable system that requires less maintenance. The new hardware will provide the same functionality as today's system, making it easy to learn and operate.
Additional benefits are significant reductions in power and cooling consumption. Most of these reductions are because all of SPADOC's capabilities are now integrated into two small server racks instead of spread over 1,000 square feet of an aging, analog computer system.
"We used proven emulation technology to help solve our challenge, significantly reducing obsolescence risk," said Taylor. "Innovations in programmatic and technical approaches drove a smarter, better and faster solution. The next step is to evaluate options for fielding SPEARR."
Raytheon
Missile Defense System Intercepts ICBM Target
(MAR 25) The U.S. Missile Defense Agency, in cooperation with the Joint Functional Component Command for Integrated Missile Defense, U.S. Northern Command, and elements of the U.S. Air Force Space Command's 30th, 50th, and 460th Space Wings, conducted a successful test today against an Intercontinental Ballistic Missile (ICBM) class target. This test was the first salvo engagement of a threat-representative ICBM target by two Ground Based Interceptors (GBI), which were designated GBI-Lead, and GBI-Trail for the test. The GBI-Lead destroyed the reentry vehicle, as it was designed to do. The GBI-Trail then looked at the resulting debris and remaining objects, and, not finding any other reentry vehicles, selected the next 'most lethal object' it could identify, and struck that, precisely as it was designed to do.
The threat-representative ICBM target was launched from the Reagan Test Site on Kwajalein Atoll in the Republic of the Marshall Islands, over 4,000 miles away from the two GBI interceptors, which were launched from Vandenberg Air Force Base, California.
During the test, space, ground and sea-based BMDS sensors provided real-time target acquisition and tracking data to the Command, Control, Battle Management and Communication (C2BMC) system. The two GBIs were then launched and the Exo-atmospheric Kill Vehicles successfully engaged the target complex, resulting in an intercept of the target.
Initial indications show the test met requirements. Program officials will continue to evaluate system performance based upon telemetry and other data obtained during the test.
The GMD element of the ballistic missile defense system provides combatant commanders the capability to engage and destroy intermediate and long-range ballistic missile threats to protect the U.S. The mission of the Missile Defense Agency is to develop and deploy a layered ballistic missile defense system to defend the United States, its deployed forces, allies and friends from limited ballistic missile attacks of all ranges in all phases of flight.
Missile Defense Agency
Bering Sea Fireball
This recently released view from the Terra satellite's MISR instrument was taken a few minutes after an exceptionally bright meteor exploded over the Bering Sea. The shadow of the meteor's trail through Earth's atmosphere, cast on the cloud tops and elongated by the low sun angle, is to the northwest. The orange-tinted cloud that the fireball left behind by super-heating the air it passed through can be seen below and to the right of center. MISR was built and is managed by the Jet Propulsion Laboratory in Pasadena, Calif. for NASA. Image credit: NASA/GSFC/LaRC/JPL-Caltech, MISR Team
CatSat Mission Selected by NASA
(MAR 18) An inflatable space antenna designed by University of Arizona students is one of 16 small research satellites from 10 states NASA has selected to fly as auxiliary payloads aboard space missions planned to launch in 2020, 2021 and 2022.
CatSat is a 6U CubeSat led by UA students from the Lunar and Planetary Laboratory and various departments including aerospace and mechanical engineering, astronomy, computer science, and systems and industrial engineering.
"Let's say you are flying a space probe across the solar system and you want to beam a lot of data back to the Earth," says Vishnu Reddy, the principal investigator of the mission and an associate professor at the Lunar and Planetary Laboratory. "To do that, you need a large antenna, but those are too bulky to be carried on small spacecraft such as CubeSats. To overcome the problem of getting large antennas into small spacecraft, our group of students proposed a bold mission that would test a novel inflatable antenna system in space."
CatSat is the size of a large cereal box. When fully deployed, the inflatable expands in a bubble gum fashion, forming a sphere three feet across that sticks out from one side of the box. An aluminized spot inside the inflated sphere is used as the communication antenna to beam data back to the Earth. Since Catsat will be in low Earth orbit, the data can be downloaded using a ground station located at the UA.
CatSat is mainly a technology demonstration mission to mature this inflatable concept in Earth orbit. The ultimate goal is to fly such an antenna on an interplanetary mission that Reddy wants to lead to explore small bodies in the solar system.
Inflatable antenna technology is the brain child of UA astronomy professor Christopher Walker, who is also the science principal investigator of the mission. FreeFall Aerospace, a local small business co-founded by Walker to advance inflatable antenna technology, helped the project as an industrial affiliate.
Two engineering principal investigators – Roberto Furfaro, a professor in the Department of Systems and Industrial Engineering, and Jekan Thanga, an assistant professor in the Department of Aerospace and Mechanical Engineering – are leading the student teams who are building the actual spacecraft hardware on campus.
University of Arizona
Online Tickets to 'Explore JPL' Available Soon
(MAR 14) "Explore JPL" will be held at NASA's Jet Propulsion Laboratory in Pasadena, California, May 18-19 from 8:30 a.m. to 4 p.m. Tickets will be available to the public online at 8 a.m. PDT on Saturday, April 6, 2019.
Visitors will have the opportunity to see, among other things, full-sized models of Mars rovers and to view the Mars 2020 rover that is being constructed in the Spacecraft Assembly Facility. Attendees can also see mission control and the machine shop, where precise parts are made for spacecraft.
Tickets are free but very limited and will be distributed on a first-come, first-served basis, with a maximum of five tickets per requestor. Orders for more than five tickets may be subject to cancellation. Tickets will be provided for specific time slots and must be reserved for specific names.
To attend, visitors must have their tickets in hand - nobody will be admitted without a ticket - and anyone age 18 or over must show a matching legal ID. Tickets are not transferable and cannot be sold.
Although children under two do not require a ticket, experiences at the event are not intended for very young guests.
Vehicles entering NASA/JPL property are subject to inspection. Visitors cannot bring these items to NASA/JPL: weapons, explosives, incendiary devices, dangerous instruments, alcohol, illegal drugs, pets and all types of skates, skateboards and Segways. Bicycling to NASA/JPL is welcomed, but not inside the event, as the venues are crowded with pedestrians. Bike racks will be provided near the main entrance. No bags, backpacks or ice chests are allowed, except small purses and diaper bags. Drones are not allowed to fly over NASA/JPL under any circumstances.
Online ticket registration begins promptly on Saturday, April 6, 2019 at 8 a.m. PDT
For more information, visit:
https://www.jpl.nasa.gov/events/special-events.php
Jet Propulsion Laboratory
Rough Terrain
The "brain terrain" in this is Mars Reconnaissance Orbiter (MRO) image is one of the unsolved mysteries on Mars. The surface texture of interconnected ridges and troughs is found throughout the mid-latitude regions of the Red Planet (this image is in Protonilus Mensae). This bizarrely textured terrain may be caused by buried water ice changing from a solid to a gas and forming troughs in the ice. The Jet Propulsion Laboratory in Pasadena, Calif. manages the MRO mission NASA. Image courtesy NASA/JPL-Caltech/University of Arizona
NASA Selects USU-led Mission to Study Space Weather
(MAR 5) NASA has selected Utah State University's Atmospheric Waves Experiment (AWE) mission to study space weather from the International Space Station. More
Lockheed Martin Awarded Contract
(FEB 26) Lockheed Martin Space, Littleton, Colorado, is awarded a maximum amount $846,030,000 un-priced letter contract modification PH0001 to a previously awarded and announced un-priced letter contract (N00030-19-C-0025) for the design, development, build and integration of large diameter rocket motors, associated missile body flight articles, and related support equipment for Navy Intermediate Range Conventional Prompt Strike Weapon System flight test demonstrations. Work will be performed at Littleton, Colorado, with an expected completion date of Jan. 1, 2024. Fiscal 2018 research, development, test, and evaluation funds in the amount of $20,000,000 are obligated on this award, which will expire at the end of the current fiscal year. Fiscal 2019 research, development, test, and evaluation funds in the amount of $67,000,000 are being obligated on this award, which will not expire at the end of the current fiscal year. Strategic Systems Programs, Washington, District of Columbia, is the contracting activity.
Department of Defense
Virgin Galactic Makes Test Flight
The Earth meets the black sky in this image taken during a Virgin Galactic flight to the edge of space on February 22. Virgin Galactic photo
(FEB 22) Mojave, California - Today, Virgin Galactic conducted its fifth powered test flight and second space flight of its commercial SpaceShipTwo, VSS Unity.
In its fifth supersonic rocket powered test flight, Virgin Galactic reached space for the second time today in the skies above Mojave CA. Spaceship VSS Unity reached its highest speed and altitude to date and, for the first time, carried a third crew member on board along with research payloads from the NASA Flight Opportunities program.
This space flight means Chief Pilot Dave Mackay and co-pilot Michael "Sooch" Masucci become commercial astronauts and the 569th and 570th humans in space. Beth Moses, Virgin Galactic's Chief Astronaut Instructor, flew as the third crew member in a first, live evaluation of cabin dynamics. She is the 571st person to fly to space and the first woman to fly on board a commercial spaceship.
In addition to this element of envelope expansion, VSS Unity flew higher and faster than ever before, as its world record-holding hybrid rocket motor propelled the spaceship at Mach 3.04 to an apogee of 295,007ft.
The crew enjoyed extraordinary views of Earth from the black skies of space and, during several minutes of weightlessness while the pilots "feathered" the spaceship in preparation for a Mach 2.7 re-entry, Beth floated free to complete a number of cabin evaluation test points. The human validation of data previously collected via sensors, and the live testing of other physical elements of the cabin interior, are fundamental to the provision of a safe but enjoyable customer experience.
The glide back home was followed by a smooth runway landing and a rapturous reception from the crowd on the flight line, which included staff and some of Virgin Galactic's 600 Future Astronaut customers.
Virgin Galactic
The Cosmic Mystery Tour – A High-Speed Journey Through Space and Time
by Nicolas Mee (Oxford University Press; $24.95; 224 pages; available March 2019)
(FEB 15) Nicholas Mee's forthcoming book "The Cosmic Mystery Tour" is an informative and fast read. In short order the author describes the components and workings of the universe from the sub-atomic level to the universe as a whole. He also covers the evolution of our understanding of the universe, the personalities who shaped that understanding, and the intriguing topics of dark matter, extra-terrestrial life, and interstellar travel.
The entire book was interesting, but I found Mee's descriptions of the fundamental forces of the universe and sub-atomic particles especially so. I had heard references to these subjects over the decades, but really didn't know anything about them.
The author communicates in layman's terms in a clear, entertaining style. Although some of the chapters of the book could be better tied in to one another, the overall organization and flow is good. The text is supported by numerous relevant illustrations. Unfortunately, I wasn't able to fully interpret some of the graphics because the originals are in color, but were printed in black and white in my preview copy of the book.
The Cosmic Mystery tour taught me more in fewer pages than any astronomy- or space-relate book I have read thus far. It is definitely worth reading.
Brian Webb
Minuteman III Launched
An unarmed Minuteman III intercontinental ballistic missile launches fron Vandenberg Air Force Base Feb. 5 during a developmental test. U.S. Air Force photo
(FEB 10) An unarmed Minuteman III missile was launched late on the evening of February 5 from Vandenberg AFB, Calif. at 23:01 PST.
Sky watchers in the Arroyo Grande/Pismo Beach area, Point Mugu, Santa Barbara, and Ventura reported seeing the event. From Ventura the launch was reported to be clearly visible, reddish orange in color, and about magnitude -3 in brightness.
Brian Webb
Atlas V Chosen for Asteroid Mission
(JAN 31) Centennial, Colo. – NASA's Launch Services Program announced today that it selected United Launch Alliance's (ULA's) proven Atlas V vehicle to launch the Lucy mission, which is the first mission to Jupiter's swarm of Trojan asteroids. This award resulted from a competitive Launch Service Task Order evaluation under the NASA Launch Services II contract.
The Lucy mission is scheduled to launch in October 2021 from Space Launch Complex-41 at Cape Canaveral Air Force Station in Florida. This mission will launch aboard an Atlas V 401 configuration rocket.
Atlas V has a strong history in launching planetary missions for NASA including Mars Science Lab; New Horizons; OSIRIS-REx, the first U.S. mission to return asteroid samples to Earth; and the Solar Dynamics Observatory to study the sun.
Jupiter's swarms of Trojan asteroids may be remnants of the primordial material that formed the outer planets, and serve as time capsules from the birth of our solar system more than 4 billion years ago. Lucy will be the first space mission to study the Trojans. The mission takes its name from the fossilized human ancestor (named "Lucy" by her discoverers) whose skeleton provided unique insight into humanity's evolution. Lucy will complete a 12-year journey to seven different asteroids.
With more than a century of combined heritage, ULA is the world's most experienced and reliable launch service provider. ULA has successfully delivered 132 missions to orbit that provide Earth observation capabilities, enable global communications, unlock the mysteries of our solar system, and support life-saving technology.
United Launch Alliance
Moisture Map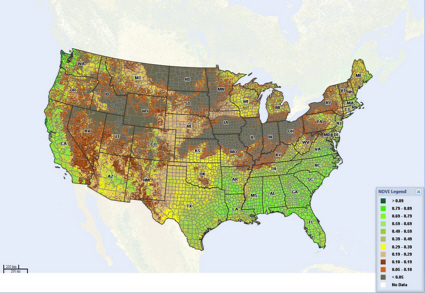 The amount of soil moisture across the continental U.S. is depicted in this recently released graphic (click to enlarge) from the U.S. Department of Agriculture (USDA). The USDA created the map using data from NASA's Soil Moisture Active Passive (SMAP) spacecraft. SMAP was launched from Vandenberg AFB in 2015 and is managed by the Jet Propulsion Laboratory in Pasadena, Calif.
NASA's Opportunity Rover Logs
15 Years on Mars
(JAN 24) NASA's Opportunity rover begins its 15th year on the surface of Mars today. More
Delta IV Heavy Launched
(JAN 19) Vandenberg Air Force Base, Calif., (Jan. 19, 2019) – A United Launch Alliance (ULA) Delta IV Heavy rocket carrying a critical payload for the National Reconnaissance Office (NRO) denoted NROL-71 lifted off from Space Launch Complex-6 on Jan. 19 at 11:10 a.m. PST. The mission is in support of our country's national defense.
"Congratulations to our team and mission partners for successfully delivering this critical asset to support national security missions," said Gary Wentz, ULA vice president of Government and Commercial Programs, "thank you to the entire team for their perseverance, ongoing dedication and focus on 100% mission success."
The Delta IV Heavy is the nation's proven heavy lift launch vehicle, delivering high-priority missions for the National Reconnaissance Office, U.S. Air Force and NASA. With its advanced upper stage, the Delta IV Heavy can take more than 14,000 pounds directly to geosynchronous orbit, as well as a wide variety of complex interplanetary trajectories.
The mission launched aboard a Delta IV Heavy, comprised of three common booster cores each powered by an Aerojet Rocketdyne RS-68A liquid hydrogen/liquid oxygen engine producing a combined total of more than 2.1 million pounds of thrust. The second stage was powered by an AR RL10B-2 liquid hydrogen/liquid oxygen engine.
NROL-71 is ULA's first launch in 2019 and 132nd successful launch since the company was formed in December 2006.
ULA's next launch is the WGS-10 mission for the U.S. Air Force on a Delta IV rocket. The launch is scheduled for March 13, 2019 from Space Launch Complex-37 at Cape Canaveral Air Force Station, Florida.
United Launch Alliance
Falcon 9 Launched
A SpaceX Falcon 9 rocket, carrying the final Iridium NEXT mission, launches from Vandenberg Air Force Base, Calif. on January 11. U.S. Air Force photo by Michael Peterson
(JAN 11) A SpaceX Falcon 9 rocket lifted off as scheduled this morning from Vandenberg AFB at 7:31 a.m. PST (15:31 UTC). The vehicle later successfully inserted 10 Iridium NEXT communications satellites into orbit.
Brian Webb
ULA Delta IV Heavy NROL-71 Launch Date Under Review
(JAN 5) Vandenberg Air Force Base, Calif. – The United Launch Alliance Delta IV Heavy carrying the NROL-71 mission launch date is under review. A new launch date and time will be provided pending the results of additional testing.
"We continue to remedy the technical issues that caused the last scrub of the Delta IV Heavy, and are working with our partners, the National Reconnaissance Office and the U.S. Air Force, to ensure that we fly when it is safe to do so," said Gary Wentz, vice president of Government and Commercial programs, "we understand that this is a high-priority mission for the nation's warfighters and we take our commitment to safety and mission assurance seriously."
United Launch Alliance