Minotaur Rocket / JAWSAT Launch
2018 December 8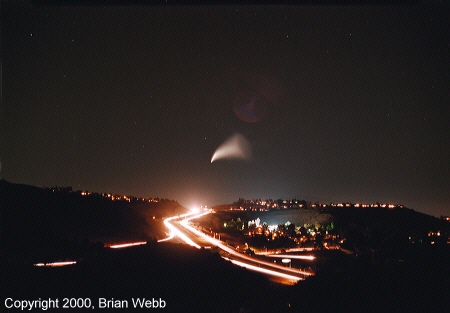 This photo shows the 2000 January 26 night launch of a Minotaur rocket from Vandenberg AFB. The vehicle successfully placed the Artemis, ASUSat, DARPA Picosat 1A, DARPA PicoSat 1B, FalconSat, JAWSAT, MASat 1, OCSE, OPAL, and STENSAT satellites into orbit.
This is a time exposure of the fourth stage exhaust plume. The Minotaur was launched long after sunset and the ground was in darkness, but the missile had climbed high enough to be illuminated by sunlight. The vehicle was more than 1,500 statute miles (2,400 kilometers) away when this photo was taken. The image was taken by Brian Webb from 105 statute miles (169 kilometers) east-southeast of the launch site.
Copyright © 2003-2018, Brian Webb. All rights reserved.