2011 Space and Astronomy News
2012 JAN 15
NASA Twin Spacecraft On Final Approach For Moon Orbit
(DEC 28) PASADENA, Calif. -- NASA's twin spacecraft to study the moon from crust to core are nearing their New Year's Eve and New Year's Day main-engine burns to place the duo in lunar orbit. More
Drop Test
A test article that mimics the Orion Multi-Purpose Crew Vehicle (MPCV) is seen under parachutes on December 20 as NASA engineers conducted a drop test above Yuma, Ariz. The MPCV is being developed for crewed missions to an asteroid and then to Mars. The capsule is also planned as a backup vehicle for cargo and manned missions to the International Space Station. The Orion team was examining how the spacecraft would land under only two parachutes, instead of the normal three. Image courtesy NASA/James Blair
U of A to Cast Telescope Mirror
(DEC 23) Tucson, Arizona - On Jan. 14, 2012, the second 8.4-meter diameter mirror for the Giant Magellan Telescope, or GMT, will be cast inside a rotating furnace at the UA's Steward Observatory Mirror Lab underneath the campus football stadium.
Measuring 25 meters (80-feet) across, the GMT will be one of the proposed next-generation extremely large telescopes. This colossal telescope will feature seven giant mirrors, with six in a hexagonal pattern and one in the center, all of which are being produced using the innovative mirror-making technologies at the UA's Steward Observatory Mirror Laboratory. When completed around 2020, the GMT will produce images 10 times sharper from its site in northern Chile than the Hubble Space Telescope does from space.
The GMT Project involves 10 leading astronomical institutions including the Carnegie Institution for Science, Harvard University, the Smithsonian Institution, the University of Texas at Austin, the University of Chicago, the University of Arizona, Texas A&M University, Australian National University, Astronomy Australia Limited and the Korean Astronomy and Space Science Institute.
University of Arizona
Scientists Publish New Findings About the 'Supernova of a Generation'
(DEC 14) Santa Barbara, Calif. –– An international team of scientists, including astrophysicists from UC Santa Barbara, has discovered that a supernova that exploded in August –– dubbed the supernova of a generation –– was a "white dwarf" star, and that its companion star could not have been a "red giant," as previously suspected. More
Dawn Eclipse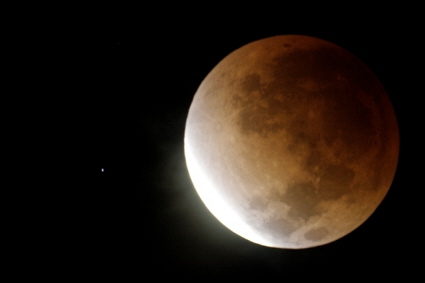 Observers in western North America were treated to the initial stages of a total lunar eclipse before sunrise on December 10. Eric Smith captured this view of the event using a Celestron 8-inch Schmidt-Cassegrain telescope and a Canon EOS Digital Rebel XS digital camera. In this view the Moon was deep within the Earth's inner shadow and illuminated by sunlight bent around the Earth by the atmosphere. To the left of the Moon is the star Iota Tauri. Image copyright 2011, Eric Smith
NASA's Voyager Hits New Region at Solar System Edge
(DEC 5) WASHINGTON -- NASA's Voyager 1 spacecraft has entered a new region between our solar system and interstellar space. More
Total Lunar Eclipse
(DEC 6) If the sky is clear, observers in the Southwest can see the initial stages of a total lunar eclipse on the morning of Saturday, December 10. Varying portions of the event will also be visible across much of the globe.
The eclipse officially begins at 03:33 PST when the Moon's orbit begins taking the Moon into the Earth's penumbra, or outer shadow. During this portion of the eclipse, the Moon will be very slightly shaded, but the effect will be too subtle for most people to notice.
The easily visible part of the eclipse begins at 04:45 PST, when the Moon begins to enter the Earth's umbra, or inner shadow. At first, a black dent will appear on the Moon's edge. The dent will then slowly grow and advance across the Moon.
Totality begins at 06:06 PST when the Moon completely enters the umbra. For the next 51 minutes, a portion of the sunlight from the Earth's day side will be refracted, or bent, around the Earth by our atmosphere and directed into the umbra, giving the Moon with a dull copper color.
Unfortunately, the brightening sky and the setting of the Moon will prevent observers in the Southwest from seeing all of the eclipse. From New Mexico, totality begins around moonset. On California's Central Coast, however, more of the eclipse will be visible with the Moon setting around the end of totality.
Besides a clear sky, all you'll need to see Saturday's eclipse are the unaided eye and a vantage point with an unobstructed western horizon. For the best view, use tripod mounted binoculars.
The circumstances of the eclipse as seen from Los Angeles are as follows:

PST
Moon's
Altitude
(°)

Event
04:45
22.9
Partial eclipse begins
06:06
7.6
Totality begins
06:31
2.9
Maximum eclipse
06:57
-2.0
Totality ends
08:17
-15.2
Partial eclipse ends
Brian Webb
NASA's Airborne Observatory Views Stars Forming Region W40
(NOV 21) MOFFETT FIELD, Calif. ­ A new image from NASA's Stratospheric Observatory for Infrared Astronomy, or SOFIA, provides the highest resolution mid-infrared image taken to-date of the massive star formation region in our galaxy known as W40. More
Whirlpool Galaxy
Intended for imaging comet nuclei, the EPOXI spacecraft team recently tested the ability of the craft's optical system to image more traditional astronomical targets such as M-51, also called the Whirlpool Galaxy. Visible here is M-51 and the supernova SN2011dh. The Jet Propulsion Laboratory in Pasadena, Calif. manages the EXPOXI mission for NASA. Image courtesy of NASA/JPL-Caltech/UMD
SpaceX Searches for New Commercial Launch Site
(NOV 18) Hawthorne, CA – Space Exploration Technologies (SpaceX) is searching for a new launch site to meet increasing demand from commercial customers.

SpaceX already has an active launch pad at Cape Canaveral Air Force Station in Florida and is currently developing a new launch site at Vandenberg Air Force Base in California. The company also operates a rocket development facility in McGregor, Texas.

"Our growing launch manifest has led us to look for additional sites. We're considering several states and territories," said SpaceX CEO Elon Musk. "I envision this site functioning like a commercial Cape Canaveral."

SpaceX is the fastest growing launch services provider in the world, having received 14 new orders for its Falcon 9 rocket within the last year alone. The company has over 3 billion dollars of revenue on the books through 2017, and has sold over 40 missions for the Falcon 9, over half of which are for commercial customers.

Four U.S. states – Virginia, California, Alaska, and Florida – have active launch sites. Given the complexity of developing a rocket launch site, SpaceX will be pursuing several options concurrently in order to fully understand the pros and cons of each location.

View SpaceX's busy manifest of launches: http://www.spacex.com/launch_manifest.php

SpaceX
Pratt & Whitney Rocketdyne and NASA Complete Hot-Fire Test on J-2X Engine
(NOV 10) CANOGA PARK, Calif. – Pratt & Whitney Rocketdyne and NASA successfully completed a 500-second duration hot-fire test on NASA's J-2X engine, More
Launch Remnants
People over a wide area observed an interesting display at dawn on October 28th thanks to a Delta II rocket launched from Vandenberg AFB. Although liftoff took place at 02:48 PDT, the rocket's exhaust had not dispersed much when the Sun's rays illuminated the high altitude portions of the trail before sunrise more than 3.5 hours later. Anne Spohnhauer captured this image of the launch aftermath from Paso Robles, California. Copyright 2011, Anne Spohnhauer
Huge Sunspot
(NOV 3) One of the biggest sunspot groups in many years has just emerged over the sun's eastern limb. The sunspot's magnetic canopy is crackling with M-class (medium-sized) solar flares and seems poised to launch even stronger X-class eruptions. The sunspot, named AR1339, is not yet directly facing Earth but it will be turning toward our planet in the days ahead. Check http://spaceweather.com for images of the behemoth and updates.
SpaceWeather.com
Team Vandenberg Launches Delta II Rocket
(OCT 28) VANDENBERG AIR FORCE BASE, Calif. - Team Vandenberg launched a Delta II rocket carrying NASA's NPOESS Preparatory Project (NPP) satellite from Space Launch Complex-2W here at 2:48 a.m. PDT today.
Col. Richard Boltz, 30th Space Wing commander, was the launch decision authority.
"Public safety is always our first priority, and Team Vandenberg did a phenomenal job ensuring a safe launch for this critical NASA mission," said Colonel Boltz.
NPP, an Earth-observing satellite, represents a critical first step in building the next-generation of U.S. polar-orbiting climate and weather monitoring spacecraft. NPP is the bridge between NASA's Earth Observing System (EOS) satellites and the forthcoming series of Joint Polar Satellite System (JPSS) satellites. The mission will test key technologies and instruments for the JPSS missions.
See www.nasa.gov/NPP for updates on post-launch NPP mission status.
Today's launch is the last scheduled for 2011 from Vandenberg as well as the last for Colonel Boltz serving as 30th Space Wing commander. "It's been a tremendous honor serving alongside the men and women who make Team Vandenberg the best launch team in the world," said Colonel Boltz, whose change of command ceremony is scheduled for January 2012.
Col. Nina Armagno, currently serving as Director of Staff, Headquarters, Air Force Space Command, Peterson AFB, Colo., has been named as the incoming 30th Space Wing commander.
Vandenberg AFB
Final Testing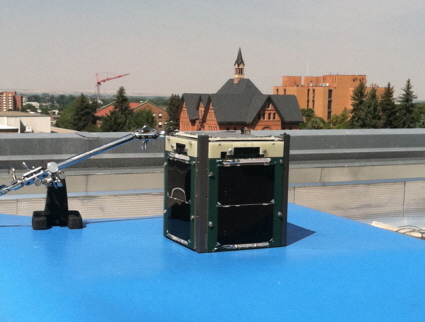 Montana State University's Explorer 1 Prime satellite undergoes final testing on the rooftop of Cobleigh Hall on the MSU campus. The small spacecraft is one of several university satellites scheduled for launch from Vandenberg AFB on October 28 aboard a Delta II rocket. Image credit: Dave Klumpar and Montana State University
Failed Missile Defense Test Findings Released
(OCT 17) The following statement was released by the Missile Defense Agency regarding last December's failed test:
"MDA executed Flight Test Ground-based-06a (FTG-06a) on December 15, 2010. The purpose of the test was to demonstrate hit-to-kill (a direct collision between the interceptor and the target) performance of the long-range Ground-Based Midcourse Defense (GMD) element of the Ballistic Missile Defense System equipped with an Exoatmospheric Kill Vehicle (EKV) against a threat-representative target. The EKV used in this test is an advanced version of the operational EKV now deployed in Alaska and California.
The target missile was launched from the Reagan Test Site at Kwajalein Atoll, Republic of the Marshall Islands. The GMD system used both forward-based and midcourse radars to develop an intercept solution. A ground-based interceptor missile was then launched from an operationally-configured silo at Vandenberg AFB, California, flew a nominal trajectory through each of three booster rocket stages, and successfully deployed the EKV.
The EKV successfully selected the correct target object, but a guidance error occurred in the final seconds before the planned intercept. As a result, the EKV did not intercept the target warhead.
Extensive ground testing and modeling have demonstrated with high confidence the source of the failure. The EKV's guidance system had a fault related to outer space-related dynamic environments which caused the EKV to fail in the final seconds of the test. There is no indication of any quality control problem as the cause of the failure. Corrective design steps are being pursued and tested on the ground and during a non-intercept Ground Based Interceptor (GBI) test scheduled for late next spring to confirm resolution. Following a successful non-intercept test, the previously failed intercept test will be repeated later next year. The first generation EKVs now deployed in Alaska and California do not have this design issue."
U.S. Missile Defense Agency
NASA Readies New Type Of Earth-Observing Satellite For Launch
(OCT 12) WASHINGTON -- NASA is planning an Oct. 27 launch of the first Earth-observing satellite to measure both global climate changes and key weather variables. More
Nevada Fires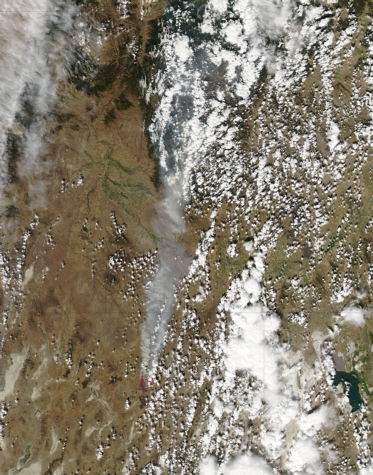 Smoke billows from the Dunphy Complex Fire north of Carlin, Nevada. NASA's Aqua satellite imaged the blaze during an afternoon pass over the region on October 3. The fires are indicated in red. The fire complex consists of three wildfires sparked by a dry lightning storm on September 30. Image courtesy MODIS Land Rapid Response Team, NASA GSFC
NASA To Seek Astronaut Applicants
(OCT 3) HOUSTON -- In early November, NASA will seek applicants for its next class of astronaut candidates who will support long-duration missions to the International Space Station and future deep space exploration activities.
A bachelor's degree in engineering, science or math and three years of relevant professional experience are required in order to be considered. Typically, successful applicants have significant qualifications in engineering or science, or extensive experience flying high-performance jet-aircraft.
After applicant interviews and evaluations, NASA expects to announce the final selections in 2013, and training to begin that August.
For more information, visit http://astronauts.nasa.gov/ or call the Astronaut Selection Office at 281-483-5907.
NASA
NASA's Asteroid Hunter Finds Fewer 'Planet-Buster' Asteroids Than Predicted
(SEP 29) The U.S. space agency, NASA, says there are slightly fewer massive, planet-buster asteroids and far fewer mid-sized, city-buster asteroids than previously thought in near-Earth orbit. More
Sea Surface Salinity
The first global map of the salinity, or saltiness, of Earth's ocean surface produced by NASA's new Aquarius instrument was released on September 22. The map reveals a rich tapestry of global salinity patterns, demonstrating Aquarius' ability to resolve large-scale salinity distribution features clearly and with sharp contrast. The Aquarius instrument was carried into orbit aboard a Delta II rocket launched from Vandenberg AFB in June. Image credit: NASA/GSFC/JPL-Caltech
Military Tracks Errant Satellite for NASA
(SEP 22) WASHINGTON - As a 6.5-ton NASA satellite makes its way back to Earth later this week, an Air Force space operations team in California is tracking its every move to predict when -- and possibly where -- it will re-enter the atmosphere. More
Minuteman Launch Postponed
(SEP 16) BARKSDALE AIR FORCE BASE, La. -- The scheduled launch of an unarmed operational test Minuteman III intercontinental ballistic missile at Vandenberg AFB, Calif., Sept. 21, has been postponed pending completion of post test analysis of the failed launch that occurred July 27. The launch has not yet been rescheduled.
U.S. Air Force Global Strike Command
Hurricane Katia
Hurricane Katia hovers over the ocean northeast of the Turks and Caicos Islands in this natural color image recorded by MODIS instrument aboard NASA's Terra satellite on September 5. Shortly before Terra captured the image, the National Hurricane Center reported that Katia had maximum sustained winds of 110 miles (175 kilometers) per hour with higher gusts. Terra was launched from Vandenberg AFB in 1999 December. Image courtesy MODIS Land Rapid Response Team, NASA GSFC
Geomagnetic Storm
(SEP 9) A strong geomagnetic storm (Kp=7) is in progress following the impact of a CME [coronal mass ejection] during the middle hours of the day on Sept. 9th. This could be the first of several hits from a series of CMEs expected to reach Earth during the weekend. High-latitude sky watchers should be alert for auroras after nightfall. (Observing tip: The hours around midnight are often best for aurora sightings.) Check http://spaceweather.com for more information and updates.
SpaceWeather.com
NASA Earth-Observing Satellite Arrives In California For Launch
(AUG 31) WASHINGTON -- On Tuesday, Aug. 30, NASA's next Earth-observing research satellite arrived at Vandenberg Air Force Base in California to begin preparations for an October launch. More
Infrared Milky Way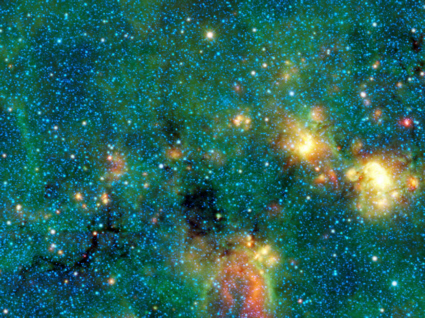 Since its launch from Vandenberg AFB in 2009, NASA's WISE spacecraft has returned numerous views of the sky from the invisible realm of the infrared. This recently released image reveals otherwise hidden details in the Milky Way such as these green, yellow and red clouds. The clouds are dense enough to block visible light, but not dense enough to block longer wavelengths of infrared light. In addition, they are too cool to shine in visible light but still warm enough to glow brightly in infrared light. The black areas are exceptionally cold, dense cloud cores seen in silhouette against the Milky Way. Image courtesy of NASA
Utah Rocket Motor Test
(AUG 24) WASHINGTON -- NASA and Alliant Techsystems Inc. (ATK) will conduct a full-scale test of a five-segment, solid rocket motor at the ATK Aerospace Systems test facility in Promontory, Utah, at 4:05 p.m. EDT, Thursday, Sept. 8.
The static firing of the five-segment solid rocket motor, designated Development Motor-3 (DM-3), will last approximately two minutes. DM-3 is the third in a series of development motors and the most heavily instrumented solid rocket motor in NASA history, with a total of 37 test objectives measured through more than 970 instruments.
The DM-3 incorporates several performance-based improvements to the designs of the first two development motors. Additionally, the core of DM-3 will be heated to 90 degrees Fahrenheit for this full-duration firing to verify the motor's performance at high temperatures.
This test will continue to advance understanding of five-segment solid rocket motor performance and specifically assess performance at the highest end of the motor's accepted temperature range. Through development testing, the solid rocket motor will be certified to fly at ambient temperatures ranging from 40 to 90 degrees Fahrenheit.
The DM-3 test will follow wind constraint requirements different than past development motors. Two days before the test, ATK's public relations will notify registered media of a go/no-go decision. If no-go, the test will slip to the next day. Notification of a decision to proceed will be made via email, website www.atk.com/dm3 and social media (Facebook and Twitter).
The solid rocket motor is managed by NASA's Marshall Space Flight Center in Huntsville, Ala. ATK Space Systems is the prime contractor.
NASA
Moon And Earth May Be Younger Than Originally Thought
(AUG 16) LIVERMORE, Calif. -- New research using a technique that measures the isotopes of lead and neodymium in lunar crustal rocks shows that the moon and Earth may be millions of years younger than originally thought. More
Team Vandenberg launches Minotaur IV
A Minotaur IV Lite booster leaves Space Launch Complex-8 at Vandenberg AFB on August 11. The Minotaur sent DARPA's HTV-2 hypersonic unmanned aircraft on a high-speed dash above the Pacific. U.S. Air Force photo by Dan Liberotti
(AUG 11) VANDENBERG AIR FORCE BASE, Calif. -- Team Vandenberg launched a Minotaur IV from Space Launch Complex-8 here at 7:45 a.m. Aug. 11.
The rocket's payload was the Defense Advanced Research Projects Agency's Hypersonic Test Vehicle-2.
For more information on the HTV-2, please see http://go.usa.gov/KnE.
Vandenberg AFB
Briny Water may be at Work on Mars
(AUG 4) TUCSON, Ariz. - Dark, finger-like features that appear and extend down some Martian slopes during the warmest months of the Mars year may show activity of salty water on Mars. More
Active Sun
The Sun sports several prominent spots in this space-based view taken July 31 from NASA's Solar Dynamics Explorer. Solar activity increased this week with a solar flare erupting from sunspot 1261 (second group of spots from left) on July 30. Image credit: NASA
Minuteman III Destroyed During Test Launch
(JUL 27) VANDENBERG AIR FORCE BASE, Calif. - An unarmed operational test Minuteman III intercontinental ballistic missile was destroyed by Vandenberg's Western Range officials at 3:06 a.m. PDT after launching from Launch Facility 04 here July 27.
Air Force controllers detected a flight anomaly and terminated the flight for safety reasons. When terminated, the vehicle was in the broad ocean area, northeast of Roi-Namur.
"At all times public safety is paramount. We plan for situations like this and everything was executed according to the plan," said Col. Matthew Carroll, 30th Space Wing chief of safety. "Established parameters were exceeded and controllers sent destruct commands."
The launch was an operational test to determine the weapon system's reliability and accuracy.
An Air Force team will investigate the cause of the anomaly.
More information will be released as it becomes available.
Vandenberg AFB
Santa Barbara Near Space Balloon Recovered Successfully
(JUL 18) SANTA BARBARA, Calif. - The near space balloon launched from West Beach in Santa Barbara on Saturday has been recovered. More
Falcon Heavy Groundbreaking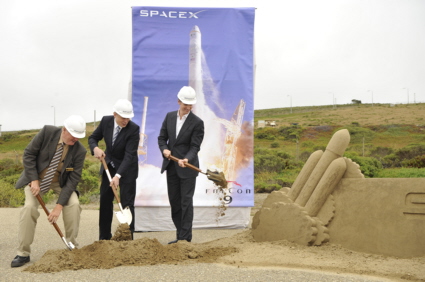 Lompoc Mayor John Linn, SpaceX founder and chief executive officer Elon Musk, and California Lt. Governor Gavin Newsom; shovel sand during the ground breaking ceremony at Space Launch Complex 4 East at Vandenberg AFB on July 14. SpaceX has plans to launch their Falcon Heavy from Vandenberg in 2013. U.S. Air Force photo by Staff Sgt. Andrew Satran
Short Range Air Launched Target Successfully Launched
(JUL 11) The Missile Defense Agency successfully completed a flight test involving the launch of a Short Range Air Launched Target (SRALT) at the Naval Air Warfare Center, Weapons Division-Point Mugu Sea Range, California. This flight test, designated FTX-17, successfully demonstrated an upgraded air launch and umbilical pull separation system, which had been redesigned to correct problems identified during previous tests.

At 7:04 p.m. PDT (10:04 p.m. EDT) on July 8, 2011, the SRALT missile was deployed from a U.S. Air Force C-17 transport aircraft over the Pacific Ocean approximately 500 miles west of the California coast. The target missile was extracted from the rear of the C-17 aircraft by parachute. The missile's rocket motor then ignited, sending it on a planned trajectory over the Pacific Ocean.

The target missile's flight was successfully tracked by several missile defense sensors in California, including an AN/TPS-59 Tactical Missile Defense Radar at Marine Corps Base Camp Pendleton, an X-band AN/TPY-2 radar at Vandenberg AFB, and the Upgraded Early Warning Radar at Beale AFB. Preliminary indications are that all data collection objectives were met.

This flight test was also used as a target of opportunity for several emerging missile defense technologies. Two Space Tracking Surveillance System (STSS) demonstration satellites tracked the target and transmitted data to the Ballistic Missile Defense System (BMDS). This was the first demonstration of stereo acquisition and track handover of a short range target by the STSS satellites. Other participants included the Command, Control, Battle Management and Communications (C2BMC) Experimentation Laboratory, Integrated Sensor Manager, Enterprise Sensors Laboratory (ESL), Near-Field Infrared Experiment (NFIRE), and the Airborne Infrared (ABIR) program.

U.S. Missile Defense Agency
Northrop Grumman Team Supports Minuteman III Launch
(JUL 7) VANDENBERG AIR FORCE BASE, Calif. -- The Intercontinental Ballistic Missile (ICBM) Prime Team, led by Northrop Grumman Corporation, participated in an Air Force Global Strike Command flight test of an operational Minuteman III ICBM launched from Vandenberg Air Force Base, Calif., on June 22, 2011. More
Global Carbon Monoxide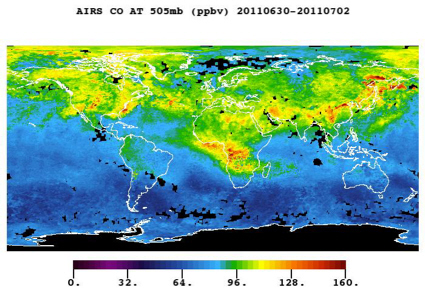 A rainbow of colors reveals the global distribution of carbon monoxide at the 500 millibar or 18,000 foot level in Earth's atmosphere. NASA produced the map from data collected by the AIRS instrument aboard its Aqua spacecraft from June 30 to July 2. Aqua was launched from Vandenberg Air Force Base in California in 2002. Image credit: NASA
Clocking Neptune's Spin
(JUN 29) Tucson, Ariz. - A day on Neptune lasts precisely 15 hours, 57 minutes and 59 seconds, according to the first accurate measurement of its rotational period made by University of Arizona planetary scientist Erich Karkoschka. More
Vandenberg Launches Minuteman III
Missile exhaust blasts from silo LF-10 during the June 22 test launch of a Minuteman III ICBM from Vandenberg AFB. The missile sent an unarmed warhead to an impact area near Kwajalein Atoll in the Marshall Islands. U.S. Air Force photo by Joe Davila
(JUN 22) VANDENBERG AIR FORCE BASE, Calif. - A scheduled unarmed operational test Minuteman III intercontinental ballistic missile launch occurred at 6:35 a.m. June 22 from Launch Facility-10 here. More
SpaceX to Launch Thai Satellite
(JUN 18) Hawthorne, California-based Space Exploration Technologies (SpaceX) announced this week that it has been chosen by the Thai satellite company THAICOM Plc. to launch the Thaicom 6 telecommunications satellite into a geosynchronous transfer orbit (GTO) from SpaceX's Cape Canaveral launch site in the second quarter of 2013.
The contract brings another international launch to the United States to fly with SpaceX. Thaicom is the eighth non-U.S. customer manifested for upcoming flights aboard the Falcon 9.
The Thaicom 6 satellite is designed to serve the growing satellite television market in South and South-East Asia, as well as Southern Africa. Built by Orbital Sciences Corporation of Dulles, VA , and expected to weigh about 3,200 kilograms at launch, the satellite will operate from 78.5 degrees east and carry 18 C-band and eight Ku-band transponders. Thaicom 6 is planned to be in service by the middle of 2013.
Team Vandenberg Launches Delta II Rocket
A Delta II rocket carrying the Aquarius/SAC-D environmental satellite lifts off from Space Launch Complex 2-west at Vandenberg AFB. United Launch Alliance photo by William Hartenstein
(JUN 10) VANDENBERG AIR FORCE BASE, Calif. - Team Vandenberg launched a Delta II rocket carrying the Aquarius/SAC-D (Satelite de Aplicaciones Cientificas) observatory from Space Launch Complex-2 here at 7:20 a.m. PDT.
Col. Richard Boltz, 30th Space Wing commander, was the launch decision authority.
"Team Vandenberg performed brilliantly once again in ensuring safe and successful launch operations," said Colonel Boltz. "We wish our mission partners at NASA well as they begin their important work with Aquarius."
The Aquarius/SAC-D observatory is a collaboration between NASA and Argentina's space agency, Comision Nacional de Actividades Espaciales (CONAE).
Aquarius is the NASA-built primary instrument on the SAC-D spacecraft, built by CONAE. Aquarius will map global changes in salinity - the concentration of dissolved salt - at the ocean surface.
Salinity is a key measurement for understanding how changes in rainfall, evaporation, and the melting or freezing of ice influence ocean circulation and are linked to variations in Earth's climate. According to NASA officials, the three-year mission will provide new insights into how variations in ocean surface salinity relate to these fundamental climate processes.
See www.nasa.gov/aquarius for updates on post-launch Aquarius mission status.
Vandenberg AFB
Army Supports Student Launch Program
(JUN 1) WHITE SANDS MISSILE RANGE, N.M. -- A scientific rocket screamed skyward at Spaceport America May 20, 2011, as students from all over New Mexico, as well as Texas and Arizona came to see their scientific payloads fly into space during a scientific and educational mission supported by White Sands Missile Range. More
Argentine Dust
Dust plumes blow off the Argentina coast and over the Atlantic Ocean in this May 23 image from the MODIS instrument on NASA's Aqua spacecraft. Dust plumes arise from discrete source points near the coast, and blow fairly uniformly toward the east-northeast. Some of the long, thin plumes coalesce into a large veil of dust northeast of the city of Cabo Blanco. MODIS was built by Raytheon in Goleta, Calif. Image and caption courtesy NASA GSFC.
NASA Selects UA-Led Mission to Collect Sample From Asteroid
(MAY 25) NASA has selected the University of Arizona to lead a sample-return mission to an asteroid. The team is led by Michael Drake, director of the UA's Lunar and Planetary Laboratory. More
Dawn Images Vesta
The giant asteroid Vesta appears as a bright orb in the first, unprocessed image of the body from NASA's Dawn spacecraft. Dawn is scheduled to achieve orbit around Vesta on July 16. Vesta is 330 miles (530 kilometers) in diameter and the second most massive object in the asteroid belt. The Jet Propulsion Laboratory in Pasadena, Calif. manages the Dawn mission for NASA's Science Mission Directorate. Image credit: NASA/JPL-Caltech/UCLA/MPS/DLR/IDA
Keck Telescope to Focus on Rings of Saturn
(MAY 13) SANTA BARBARA, Calif. - Saturn will be the star of the party Friday, May 20, from 8-11 p.m. during a free, public viewing with the Keck Telescope at Westmont's observatory. Westmont serves as one of the public observing sites for the Santa Barbara Astronomical Unit (SBAU) every third Friday of the month, weather permitting. In case of inclement weather, please call the Telescope Viewing Hotline at (805) 565-6272 and check the Westmont website at www.westmont.edu to see if the viewing has been cancelled.
Westmont physics instructor Thomas Whittemore, who earned his doctorate at the University of Arizona, says the moon won't rise until about 11:30 p.m., making Saturn a magnificent target. "If the night is steady, we should be able to see the Cassini Division, a blank separation between the A and B rings, along with five of this gas giant's moons: Titan, Rhea, Dione, Tethys and Enceladus," he says.
Fainter objects in the evening sky that may be available for viewing include globular clusters, M3 in Canes Venatici, and M5 in Serpens. Each is a member of the Milky Way. M3 lies about 33,900 light-years from earth and contains about 500,000 stars which are older than our Sun. "One of my favorites, M5, lies some 24,500 light-years from Earth, is oval in shape and spans about 150 light years from side to side," Whittemore says. "These remarkably bright objects will certainly dazzle the public's eyes."
Westmont students and faculty use the 24-inch reflector telescope to conduct astronomical research. The Keck Telescope is housed in the observatory between Russell Carr Field and the track and field/soccer complex. Free parking is available near the baseball field.
Westmont College
Gravity Probe B Confirms Two Einstein Theories
(MAY 4) Data collected by a NASA spacecraft launched from Vandenderg AFB in 2004 has confirmed two of Albert Einstein's space-time theories. More
Terby Crater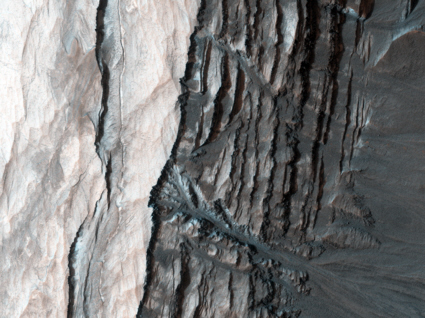 Erosion reveals several rock layers in Terby Crater, a potential landing site for future Mars missions. The 100-mile crater is located on the northern edge of the planet's Hellas Planitia region and is of interest to scientists because of its apparent modification by liquid water. The HiRISE camera on NASA's Mars Reconnaissance Orbiter imaged the crater in April. HiRISE is controlled from the University of Arizona in Tucson. Image: NASA/JPL/University of Arizona
Meteors from Halley's Comet
(APR 27) Looking for an adventure? Get up in the wee hours of the morning May 6th and head out into the country, far from the city lights. More
SpaceX Wins Contract for Shuttle Successor
WASHINGTON D.C. - NASA has awarded Hawthorne, California-based Space Exploration Technologies (SpaceX) $75 million to develop a revolutionary launch escape system that will enable the company's Dragon spacecraft to carry astronauts.
"This award will accelerate our efforts to develop the next-generation rockets and spacecraft for human transportation," said Elon Musk, SpaceX CEO and Chief Designer. "With NASA's support, SpaceX will be ready to fly its first manned mission in 2014."
Musk said the flight-proven Falcon 9 launch vehicle and Dragon spacecraft represent the safest and fastest path to American crew transportation capability. With their historic successful flight on December 8th, 2010, many Falcon 9 and Dragon components that are needed to transport humans to low-Earth orbit have already been demonstrated in flight. Both vehicles were designed from the outset to fly people.
The announcement comes at a time when the United States has a critical need for American commercial human spaceflight. After the Space Shuttle retires in a few months, NASA will be totally dependent on the Russian Soyuz to ferry astronauts to and from the International Space Station (ISS) at a cost of more than $753 million a year -- about $63 million per seat.
Musk said Dragon – designed to carry seven astronauts at a time to the space station at a cost of $20 million a seat – offers a far better deal for the U.S. taxpayer.
Adapted from a SpaceX press release
Vandenberg's 4th Atlas V Lifts Off
An Atlas V rocket carrying a classified payload for the U.S. National Reconnaissance Office climbs into orbit following liftoff from Vandenberg AFB on the evening of April 14. Jim Lockyer recorded the launch in this composite of six time exposures taken from Wildomar, California. Visible are the trace from the rocket (curved line) and the constellation Orion (left). Note how the rocket trail becomes somewhat blurred in the left portion of the image. This was caused by the rocket's exhaust plume growing wider at high altitude just before stage 1 cutoff. The breaks in the rock trail are brief gaps between exposures. Copyright 2011, James Lockyer. Used with permission.
(APR 14) VANDENBERG AIR FORCE BASE, Calif. - Team Vandenberg launched an Atlas V from Space Launch Complex-3 here April 14 at 9:24 p.m. PDT.
It was the fourth Atlas V processed at Vandenberg and the 605th overall Atlas mission in U.S. history.
"The wind cooperated with us this evening enabling us to launch without compromising public safety," said Col. Richard Boltz, 30th Space Wing commander. "Without a doubt, every launch is a major feat, and I'm extremely proud of Team Vandenberg for yet another job well done."
The rocket carried a national security payload for the National Reconnaissance Office.
Vandenberg's next launch is a Delta II scheduled for June 9.
Vandenberg AFB
Vandenberg Launch Rescheduled
(APR 8) The launch of an Atlas V carrying the NROL-34 payload has been rescheduled for April 14, 2011, in order to allow time for the launch team to replace an avionics component on the vehicle. The launch is now scheduled for April 14 from Space Launch Complex-3 at Vandenberg Air Force Base, Calif. The opening of the launch window is 9:24 p.m. PDT.
United Launch Alliance
Great Lakes Snow
The bright white remnants of snow cut a clean swath across Wisconsin and Michigan during springtime snowmelt in early 2011. The Moderate Resolution Imaging Spectroradiometer aboard the Terra satellite captured this natural-color image of the scene on March 28. Terra was launched from Vandenberg AFB in 1999 December. Image courtesy of Jeff Schmaltz, MODIS Land Rapid Response Team, NASA GSFC.
Salt-Seeking Spacecraft Arrives At Vandenberg AFB
(MAR 31) WASHINGTON -- An international spacecraft that will take NASA's first space-based measurements of ocean surface salinity has arrived at its launch site at Vandenberg Air Force Base in California. More
NASA Names Mishap Board For Taurus Xl Launch Failure Investigation
(MAR 9) WASHINGTON -- NASA has selected the members of the board that will investigate the unsuccessful March 4 launch of the Glory spacecraft. Bradley C. Flick, director of the Research and Engineering Directorate at NASA's Dryden Flight Research Center in Edwards, Calif., will lead the mishap investigation board. More
Glory Launch Unsuccessful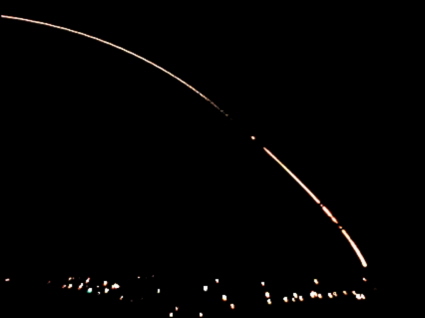 A Taurus XL rocket carrying NASA's Glory spacecraft and university-built satellites arcs across the sky in an ill-fated launch early on the morning of March 4th. Martin Newell recorded this time exposure of the launch from his backyard in Thousand Oaks, Calif. using an iPhone 3. Copyright 2011, Martin Newell. Used with permission.
(MAR 4) WASHINGTON -- NASA's Glory mission launched from Vandenberg Air Force Base in California Friday at 2:09:45 a.m. PST failed to reach orbit.
Telemetry indicated the fairing, the protective shell atop the Taurus XL rocket, did not separate as expected about three minutes after launch.
The new Earth-observing satellite was intended to improve our understanding of how the sun and tiny atmospheric particles called aerosols affect Earth's climate.
NASA
Orbital Sciences Launches Target for Missile Defense Test
(MAR 2) DULLES, VA - Orbital Sciences Corporation (NYSE: ORB) announced today that it successfully launched a Patriot Target Vehicle (PTV) under a direct contract with the U.S. Air Force Space and Missile Systems Center (SMC) Space Development and Test Directorate (SD). The PTV served as an intercept target for the Lower Tier Project Office Patriot missile defense system. The PTV was launched on March 2, 2011 from Fort Wingate Launch Complex-96 into White Sands Missile Range (WSMR) in New Mexico. It flew a southerly trajectory over New Mexico into WSMR and was intercepted by the Patriot Missile Segment Enhancement (MSE) interceptor system during reentry. This PTV, known as Juno, was the second of two targets Orbital is under contract to launch in support of the Patriot MSE test and evaluation program.
Orbital developed the PTV target vehicle over a two and a half year period according to specifications that require the vehicle to have selectable reentry dynamic performance. The PTV Juno rocket relied heavily on flight-proven designs from other Orbital launch vehicles, such as the Medium Range Target, Storm target and Pegasus space launch vehicles.
Orbital Sciences Corporation
Trident Launched Off Southern California
(MAR 1) The Navy conducted the 135th successful test flight of a Trident II D5 Missile today off the coast of Southern California. The missile was launched at approximately 1 p.m. PST from an Ohio-class Trident ballistic missile submarine. The Trident II D5 missile is the Navy's sea based strategic deterrent.
U.S. Third Fleet
Point Mugu Supports Missile Defense Test
(FEB 22) The U.S.-Israel Arrow Weapon System successfully intercepts a ballistic target missile during a test conducted on the Point Mugu Range. More
Valentine's Flyby
NASA's Stardust spacecraft performed a successful Valentine's Day flyby of comet Tempel 1 and returned 72 high-resolution images. They included this view of the comet's nucleus taken at 8:39 p.m. PST on February 14. Lockheed Martin Space Systems, Denver, built the spacecraft and manages day-to-day mission operations. Image courtesy of NASA.
Launch On Schedule
(FEB 19) Next Wednesday morning's launch of a Taurus XL rocket from Vandenberg AFB remains on schedule. The rocket is slated to lift-off from launch pad 576E at 02:09:43 PST, the middle of a 48-second launch window.
The Taurus will initially rise vertically before it slowly pitches over and heads southward. If the launch occurs as planned, the rocket will carry NASA's Glory spacecraft and several university satellites into orbit.
The Taurus is a solid propellant, multi-stage rocket. Solid propellant produces a dazzlingly bright light when it burns. That, combined with the fact that the launch will occur at night, the rocket has multiple stages that will burn for several minutes as the vehicle gains altitude and covers a great distance, means the event may be visible over a wide area.
The launch could be visible to the naked eye as far away as San Francisco, Lake Tahoe, Needles, Yuma, and the interior of northwest Mexico.
Observers within 150 miles of the vehicle's flight path should see a bright, moving orange object. For observers further away, the Taurus may resemble a faint, moving orange or red star.
Observers as far away as San Marcos Pass and possibly Santa Barbara may hear a low rumble from the rocket about three minutes after liftoff.
Brian Webb
NASA'S Glory Climate Satellite Ready for Launch FEB. 23
(FEB 10) VANDENBERG AFB, Calif. - The launch of NASA's Glory spacecraft aboard an Orbital Sciences Taurus XL rocket is scheduled for Wednesday, Feb. 23. Liftoff will be from Space Launch Complex 576-E at Vandenberg Air Force Base (VAFB), Calif. Liftoff is targeted for 2:09:43 a.m. PST (5:09:43 a.m. EST) in the middle of a 48-second launch window. The spacecraft's final polar orbit will be 438 nautical miles (508 miles) at an inclination of 98.2 degrees.
Data from the Glory mission will allow scientists to better understand how the sun and tiny atmospheric particles called aerosols affect Earth's climate. Both aerosols and solar energy influence the planet's energy budget, which is the amount of energy entering and exiting Earth's atmosphere. An accurate measurement of these impacts is important in order to anticipate future changes to our climate and how they may affect human life.
The first of NASA's Educational Launch of Nanosatellite, or ELaNa, missions also will be launched on the Taurus XL. These auxiliary payloads are small satellites called CubeSats. Each is designed and created by university and college students. Three satellites will be deployed on ELaNa-1.
Vandenberg AFB
Vandenberg Launches Minotaur I
Sunlight from the approaching sunrise illuminates the tenuous aftermath from the February 6 pre-dawn launch of a Minotaur I rocket from Vandenberg AFB. The Webmaster took this image at 06:16 PST from Ventura County, Calif., nearly two hours after liftoff. During that time, high altitude winds carried the rocket's exhaust from California's Central Coast to an area northeast of Los Angeles and contorted it into the pretzel-like shape seen here. Copyright 2011, Brian Webb
(FEB 6) VANDENBERG AIR FORCE BASE, Calif. - A Minotaur I rocket was launched from Space Launch Complex-8 here at 4:26 a.m. (PST) Feb. 6.
The rocket carried a national security payload for the National Reconnaissance Office.
Col. Richard Boltz, 30th Space Wing commander, was the launch decision authority.
"I am extremely proud of the large group of professionals that came together to launch this rocket," said Colonel Boltz. "The 30th Space Wing and its mission partners have a long history of successful Minotaur launches and we are proud to continue that history again here today."
The launch was a combined effort of more than 200 personnel from the 30th Space Wing, NRO, Orbital Sciences Corporation, and the Space and Missile Systems Center.
The 30th Space Wing's next launch is a Taurus XL rocket for the National Aeronautics and Space Administration scheduled for Feb. 23.
Vandenberg AFB
An Astronomer's Field of Dreams
(JAN 26) An innovative new radio telescope array under construction in central New Mexico will eventually harness the power of more than 13,000 antennas and provide a fresh eye to the sky. More
First Delta IV Heavy Launched from Vandenberg
A Delta IV Heavy rocket carries a classified National Reconnaissance Office payload downrange following liftoff from Vandenberg AFB on January 20. The launch was the first-ever for the Delta IV Heavy from the West Coast. Copyright 2011, Jim Carleton. Used with permission.
(JAN 20) VANDENBERG AIR FORCE BASE, Calif. - The first West Coast Delta IV Heavy Launch Vehicle was launched from Space Launch Complex-6 here Jan. 20 at 1:10 p.m. PST.
The largest rocket ever to launch from the West Coast of the United States carried a national security payload for the National Reconnaissance Office.
"The teamwork between the 30th Space Wing, the National Reconnaissance Office, United Launch Alliance and numerous other agencies was outstanding for our first-ever Delta IV HLV from Vandenberg Air Force Base," said Col. Keith Balts, 30th Space Wing vice commander and Launch Decision Authority. "I'm very proud to be part of the team who worked so hard to make this mission a success."
The Delta IV Heavy launched today is 235 feet tall and produced 2 million pounds of thrust.
Vandenberg AFB
Glory Earth Science Satellite Arrives at Vandenberg AFB
(JAN 11) DULLES, VA -- Orbital Sciences Corporation (NYSE: ORB), one of the world's leading space technology companies, today announced that the Glory satellite has arrived at Vandenberg Air Force Base, CA to be integrated with the company's Taurus® XL rocket that will launch the satellite into low-Earth orbit in late February. More
Southwest Snowfall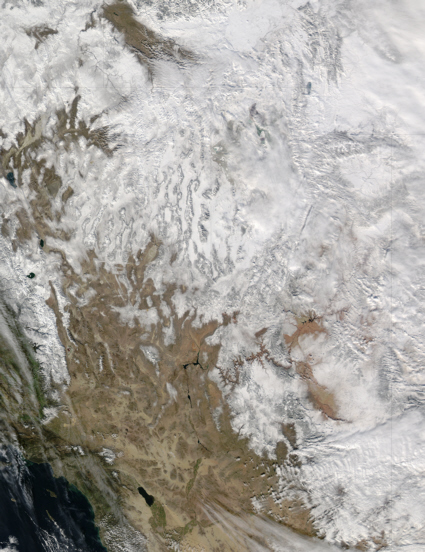 The southwestern U.S. ended 2010 covered with snow thanks to a strong winter storm on December 31. NASA's Aqua spacecraft imaged the region in true-color the same day. Visible in this view are the Colorado River (lower center) and the Salton Sea and Southern California coast (both lower left). Image: Jeff Schmaltz, MODIS Land Rapid Response Team, NASA GSFC
OrbView-3 to be De-orbited
(JAN 9) An Earth-imaging satellite launched from California six years ago appears to be scheduled for a fiery demise.
Earlier this week, the Federal Communications Commission granted GeoEye, owner of the OrbView-3 spacecraft, permission to use telemetry, tracking and telecommand (TT&C) frequencies during the de-orbiting and reentry of the satellite.
GeoEye is authorized to operate TT&C in the 2092.536-2092.664 MHz and 402.69-402.75 MHz (Earth-to-space), and 401.47-401.53 MHz, 8189.982-8190.018 MHz and 8115-8265 MHz (space-to-Earth) frequency bands for 30 days.
Orbview-3 was carried into orbit on 2003 June 26 by a Pegasus XL rocket air-dropped from a jumbo jet flying off of the California coast. The launch was staged from Vandenberg AFB.
Brian Webb
Copyright © 2010-2012, Brian Webb. All rights reserved.