Taurus Rocket / ACRIMSAT / KOMPSAT Launch Photography
2018 December 8
The final launch of 1999 from Vandenberg AFB occurred on December 20 at 23:13 PST when a Taurus rocket lifted-off and carried the ACRIMSAT and KOMPSAT satellites in Earth orbit. The following is one of several images of the launch the webmaster took from 108 statute miles (173 kilometers) east-southeast of the launch site.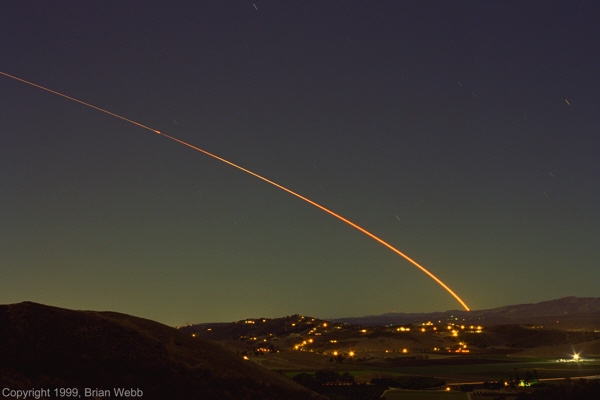 This time exposure shows the trace (orange line) made by the Taurus rocket's first and second stages. The moonlit farmland, hills, and mountains of Ventura County are visible in the foreground. The image was recorded using a Canon TLb camera, 50mm lens at f/2.8, and Kodak Gold 100 color print film. The film was developed at ISO 100 and later scanned (digitized).
Copyright © 2003-2018, Brian Webb. All rights reserved.