X-43A Third Flight
2006 May 21
This page contains images of the record-breaking flight of NASA's unmanned X-43A research vehicle on 2004 November 16. Chase planes and a B-52 bomber carrying the experimnental craft departed Edwards AFB, crossed the coast near Santa Barbara, and flew offshore west of Los Angeles.
After release from the launch aircraft, a solid rocket motor accelerated the X-43A and sent it to an altitude of 111,000 feet. The rocket motor was jettisoned and a hydrogen-fueled scramjet engine powered the vehicle at about Mach 9.6 - a record for a jet-powered flight.
The X-43A, which cannot be recovered, then descended and made a series of turns before it plunged into the Pacific and sank.
The webmaster took several of these images while covering the flight from Edwards AFB for public radio.
The news media waits for the takeoff of the F/A-18 chase planes and B-52 / X-43A. News photographer Gene Blevins (on the ladder) looks down the runway for activity.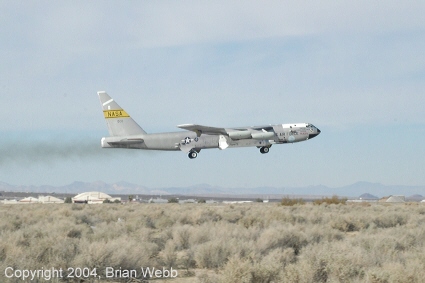 The B-52 bomber carrying the X-43A takes off.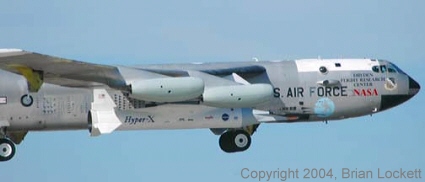 A close-up view of the B-52 / X-43A.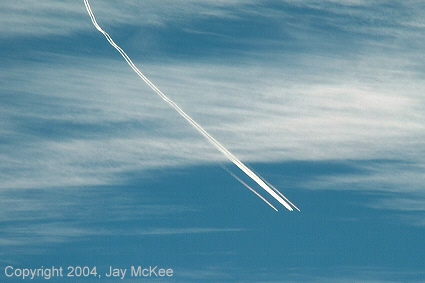 Aviation enthusiast Jay McKee drove to a high spot in Newbury Park to catch a glimpse of the B-52 / X-43A and chase planes. He captured this image of the aircraft flying offshore on their way to the launch point.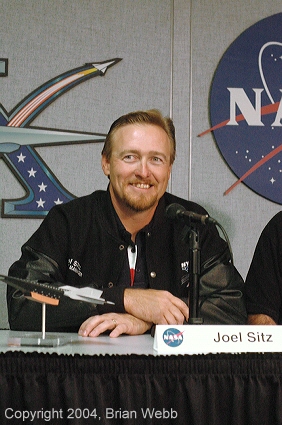 X-43A project manager Joel Sitz at the post-flight press conference at NASA Dryden Flight Research Center.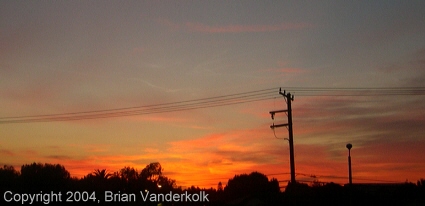 Brian Vanderkolk of Stanton photographed an unexpected byproduct of the mission. Remnants of the exhaust from the X-43A's solid rocket motor (light wisps) catch the rays of the setting sun.
Copyright © 2004-2006, Brian Webb. All rights reserved.