ARRW Flight Test Unsuccessful
(APR 6) EDWARDS AIR FORCE BASE, California -- The Air Force had a setback in demonstrating its progress in hypersonic weapons April 5 when its first booster vehicle flight test encountered an issue on the aircraft and did not launch.
A B-52H Stratofortress took off over the Point Mugu Sea Range intending to fire the first booster test vehicle for the AGM-183A Air-launched Rapid Response Weapon program. Instead, the test missile was not able to complete its launch sequence and was safely retained on the aircraft which returned here.
"The ARRW program has been pushing boundaries since its inception and taking calculated risks to move this important capability forward. While not launching was disappointing, the recent test provided invaluable information to learn from and continue ahead. This is why we test," said Brig. Gen. Heath Collins, Armament Directorate Program Executive Officer.
This would have been the eighth flight test for the ARRW program following seven captive carriage missions. Objectives for the test included demonstrating the safe release of the booster test vehicle from the B-52H as well as assessing booster performance, booster-shroud separation, and simulated glider separation. The 419th Flight Test Squadron and the Global Power Bomber Combined Test Force, both here, were involved in the testing. Since the vehicle was retained, engineers and testers will be able to explore the defect and return the vehicle back to test.
The ARRW program aims to deliver a conventional hypersonic weapons capability to the warfighter in the early 2020s. The weapon system is designed to provide the ability to destroy high-value, time-sensitive targets. It will also expand precision-strike weapon systems' capabilities by enabling rapid response strikes against heavily defended land targets.
U.S. Air Force
Close Inspection
The BioSentinel satellite is inspected following a test at NASA's Ames Research Center in California's Silicon Valley. The spacecraft is scheduled for launch from NASA's Kennedy Space Center in Florida on a deep space flight that will go past the Moon and into an orbit around the Sun. It's one of 13 CubeSats that will launch aboard Artemis I, the first flight of the Artemis program's Space Launch System. Photo by NASA/Dominic Hart
Vandenberg AFB Preferred Location for Training Unit
(APR 1) WASHINGTON -- Acting Secretary of the Air Force John Roth selected Vandenberg Air Force Base, California, as the preferred location for the Ground Based Strategic Deterrent, a new intercontinental ballistic missile, Formal Training Unit.
The FTU for the current ICBM is located at Vandenberg AFB.
The GBSD is expected to replace all operational Minuteman III missiles by 2036 and is being designed to maximize the use of existing infrastructure.
"The Minuteman III weapon system has been a bedrock of U.S. national security for more than five decades, but if one looks ahead to the next 50 years, the question of investing in nuclear modernization is as relevant as ever," said Air Force Chief of Staff Gen. Charles Q. Brown, Jr. "We are fully committed to the GBSD Program of Record, which will ensure our nation's nuclear force is ready to meet the warfighting needs of today and tomorrow."
GBSD will have increased performance, extended range, enhanced security and improved reliability to provide the United States with an upgraded and broader array of options to maintain a robust, flexible, tailorable and responsive nuclear deterrent.
A final basing decision will be made after a required environmental impact analysis.
U.S. Air Force
ULA Delta IV Heavy to Launch NROL-82
(MAR 26) Vandenberg Air Force Base, Calif. – The launch of the United Launch Alliance Delta IV Heavy NROL-82 mission for the National Reconnaissance Office is scheduled for no earlier than April 26, 2021 from Space Launch Complex-6 at Vandenberg Air Force Base, Calif.
United Launch Alliance
Satellite Breakup Confirmed
(MAR 20) The U.S. Space Force's 18th Space Control Squadron (18SPCS) yesterday confirmed the breakup of the NOAA 17 environmental satellite. The 18SPCS reported the event occured on 2021 March 10 at 0711 UTC, 16 associated pieces were being tracked, and there was no indication of a collision.
NOAA-17 was launched from Space Launch Complex 4-west at Vandenberg AFB, California on 2002 JUN 24 aboard a Titan II rocket and placed into a nearly-polar orbit. The spacecraft was decommissioned in 2013.
Brian Webb
Persian Gulf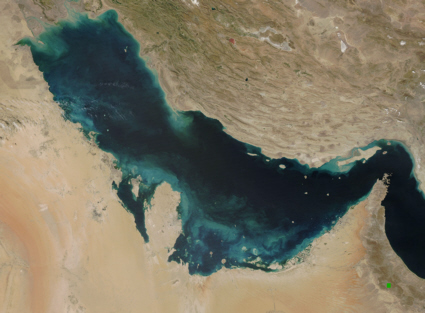 The blue waters of the Persian Gulf are colored with swirls of greens and teal in this Aqua spacecraft image released March 10. Clouds of green swirling near the shore appears to be sediment that has been washed into the water from the land. Aqua was launched from Vandenberg AFB in 2002. Image courtesy MODIS Land Rapid Response Team, NASA GSFC
Serendipitous Juno Detections Shatter Ideas About Origin of Zodiacal Light
(MAR 9) PASADENA, Calif. - Look up to the night sky just before dawn, or after dusk, and you might see a faint column of light extending up from the horizon. That luminous glow is the zodiacal light, or sunlight reflected toward Earth by a cloud of tiny dust particles orbiting the Sun. More
Space Force and SMC Launch Rocket
(MAR 3) LOS ANGELES AIR FORCE BASE – EL SEGUNDO, Calif. -- The U.S. Space Force (USSF) and the Space and Missile Systems Center (SMC)'s Launch Enterprise successfully launched an experimental research payload for the Air Force Research Laboratory (AFRL) aboard a Terrier-Terrier-Oriole (TTO) Sounding Rocket from NASA's Wallops Flight Facility (WFF) in Virginia earlier today.
The successful mission was full of many firsts for SMC's Small Launch and Targets Division. This was the first USSF small launch mission for 2021, the first AFRL dedicated partnership launch from WFF, the first sounding rocket launch under the Sounding Rocket Program-4 contract, and the first USSF sounding rocket launch with Space Vector Corporation.
The TTO vehicle was built by Space Vector, a small business, and Kratos Space and Missile Defense who were responsible for the integration, interface and mission planning for the launch.
"This mission is a great example of the innovation in SMC contracting and using Small Launch contracts to expand our capability and provide support in launching experimental missions," stated Lt. Col. Ryan Rose, chief of the Launch Enterprise's Small Launch and Targets Division and Mission Director for today's launch. "Congratulations to the entire government and industry team on successfully executing this important mission, and launching in only 16 months from contract award during the challenging conditions presented this past year."
The U.S. Space Force's Space and Missile Systems Center, located at Los Angeles Air Force Base in El Segundo, California, is the center of excellence for acquiring and developing military space systems. SMC's portfolio includes space launch, global positioning systems, military satellite communications, a defense meteorological satellite control network, range systems, space-based infrared systems, and space domain awareness capabilities.
Space and Missile Systems Center
Minuteman III Launched
An Air Force Global Strike Command unarmed, Minuteman III missile launches during an operation test at Vandenberg Air Force Base, Calif., Feb. 23.
(FEB 24) VANDENBERG AIR FORCE BASE, Calif. -- An operational test launch of an Air Force Global Strike Command unarmed Minuteman III intercontinental ballistic missile launched from Vandenberg Air Force Base Tuesday, Feb. 23, at 11:49 p.m. PT.
The purpose of the ICBM test launch program is to validate and verify the safety, security, effectiveness, and readiness of the weapon system, according to Air Force Global Strike Command.
Col. Joseph Tringe, 30th Space Wing individual mobilization augmentee to the commander, was the launch decision authority.
"This first launch of the year demonstrates our ability to provide safe, secure range operations to our launch partners while maintaining a continuous state of readiness," said Tringe. "The outstanding teamwork of the Airmen and Guardians here at Vandenberg is a true testament to the future of space operations on the Western Range and our ability to defend the United States and our allies."
Vandenberg AFB
Vandenberg Launch Contract Awarded
(FEB 19) General Atomics Electromagnetic Systems (GA-EMS) announced today that it has awarded a contract to Firefly Aerospace Inc. to launch a GA-EMS developed Orbital Test Bed (OTB) satellite carrying NASA's Multi-Angle Imager for Aerosols (MAIA) instrument. The launch vehicle delivering the satellite to space will be Firefly's Alpha rocket and is scheduled to launch from Vandenberg Air Force Base in 2022.
"Firefly's Alpha rocket meets all technical and performance requirements to launch GA-EMS' OTB spacecraft with the MAIA instrument as the primary payload on a rideshare mission," stated Scott Forney, president of GA-EMS. "By leveraging Firefly's inventive launch capabilities with our novel approach to satellite design and development, GA-EMS is able to assure our customers keep pace with the demand to launch missions like MAIA to advance NASA's Earth Science research goals."
MAIA's planned three year on-orbit operation will measure airborne particulate matter in the atmosphere to allow team members to correlate MAIA's measurements with adverse human health issues such as cardiovascular and respiratory disease, initially focused on 12 primary target areas around the world. MAIA is a Venture-class mission within NASA's Earth System Science Pathfinder Program at the agency's Langley Research Center in Virginia. NASA's Jet Propulsion Laboratory in Pasadena, CA is responsible for the MAIA instrument design, development, and delivery.
Firefly Aerospace
DART Grooming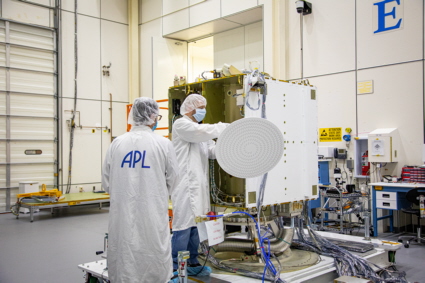 Double Asteroid Redirection Test (DART) team members install the Radial Line Slot Array (RLSA) antenna on the spacecraft at the Johns Hopkins Applied Physics Laboratory (APL) in Laurel, Maryland. DART seeks to test and validate a method to protect Earth in case of an asteroid impact threat by shifting an asteroid's orbit through kinetic impact. DART is scheduled to launch later this year on a SpaceX Falcon 9 rocket from Vandenberg Air Force Base in California. Credits: NASA/Johns Hopkins APL/Ed Whitman
Virgin Orbit Pens Deal with SatRevolution
(FEB 9) Virgin Orbit, the California-based satellite launch company, announced today it has signed a new launch agreement with SatRevolution, a NewSpace satellite company headquartered in Wroclaw, Poland. For this contract, Virgin Orbit will launch a pair of small satellites, STORK-4 and STORK-5 (MARTA), later this year onboard its LauncherOne rocket.
Based on the state-of-the-art UniBus 3U CubeSat platform developed by SatRevolution, STORK-4 and MARTA are the first optical satellites to be launched as part of the company's 14-satellite STORK constellation. Once deployed, STORK-4 and MARTA will collect multispectral medium-resolution imagery and data for agricultural and energy customers in the US, in Poland, and abroad. The mission will also feature a reduced timeline integration of the STORK-4 and MARTA satellites as part of a critical first step in demonstrating a responsive launch service. Future LauncherOne missions will be designed to offer a rapid launch capability, with the companies working closely to ensure that quick call-up capabilities are readily available.
The launch agreement builds on an existing relationship between Virgin Orbit and SatRevolution. In 2019, alongside nearly a dozen of the top technical Polish universities, the two companies became founding members of a consortium to develop the world's first dedicated commercial small satellite missions to Mars. The Polish Mission to Mars Consortium seeks to launch best-in-class satellite technology by taking advantage of LauncherOne's Virgin Interplanetary (or VIP) Service, which offers unique flexibility to access greater and more optimal launch windows for journeys to Mars and other interplanetary destinations.
Virgin Orbit
SpaceX Awarded Launch Contract
(FEB 4) NASA has selected Space Exploration Technologies (SpaceX) of Hawthorne, California, to provide launch services for the Spectro-Photometer for the History of the Universe, Epoch of Reionization, and Ices Explorer (SPHEREx) mission. SPHEREx is a planned two-year astrophysics mission to survey the sky in the near-infrared light, which, though not visible to the human eye, serves as a powerful tool for answering cosmic questions involving the birth of the universe, and the subsequent development of galaxies.
It also will search for water and organic molecules – essentials for life as we know it – in regions where stars are born from gas and dust, known as stellar nurseries, as well as disks around stars where new planets could be forming. Astronomers will use the mission to gather data on more than 300 million galaxies, as well as more than 100 million stars in our own Milky Way galaxy.
The total cost for NASA to launch SPHEREx is approximately $98.8 million, which includes the launch service and other mission related costs.
The SPHEREx mission currently is targeted to launch as early as June 2024 on a Falcon 9 rocket from Space Launch Complex-4E at Vandenberg Air Force Base in California.
NASA
Blue Canyon Technologies Provides Microsats for NASA Pioneers Missions
The Aspera and Pandora Missions were recently selected by NASA for further concept development
(JAN 27) BOULDER, Colo. - Leading small satellite manufacturer and mission services provider Blue Canyon Technologies, LLC. ("BCT" or "Blue Canyon") today announced it is providing the microsatellites for NASA's Pioneers Aspera and Pandora missions - small-scale astrophysics missions.
"We are providing high-performance microsats capable of supporting astrophysics missions at a price point never before possible," said George Stafford, CEO of Blue Canyon. "The missions will demonstrate our ability to be a mission-enabler in the areas of exoplanet characterization and the intergalactic medium."
BCT will build a Mercury-class microsat to support the Aspera mission from the University of Arizona, which will examine hot gas in the space between galaxies, otherwise known as the intergalactic medium. While the intergalactic medium is a major component of the universe, it remains poorly measured, which Aspera aims to address.
BCT also provided a Venus-class Microsat – part of the X-SAT product line to support Pandora, a mission from Lawrence Livermore National Laboratory and the Goddard Space Flight Center. This small satellite will study 20 stars and their 39 exoplanets in visible and infrared light, with the mission to disentangle the signals from stars and planetary atmospheres. Understanding how starlight changes can affect measurements of exoplanets is an outstanding problem in the search for habitable planets beyond the solar system.
Blue Canyon Technologies
Northrop Grumman Awarded Contract
(JAN 22) Northrop Grumman Systems Corp., Redondo Beach, California, is being awarded a firm-fixed-price prototype award with a total value of $155,030,206. This prototype award was competitively solicited among awardees of the Hypersonic and Ballistic Tracking Space Sensor Phase IIA effort, which was competitively awarded. Four proposals were received. Under this award, the performer will provide the Missile Defense Agency's Hypersonic and Ballistic Tracking Space Sensor program with an on-orbit prototype demonstration, culminating with launch and early orbit testing. The work will be performed in Redondo Beach, California, with an estimated completion date of July 22, 2023. Missile Defense Agency, Schriever Air Force Base, Colorado, is the contracting activity.
Department of Defense
Northrop Grumman Tests New Rocket Motor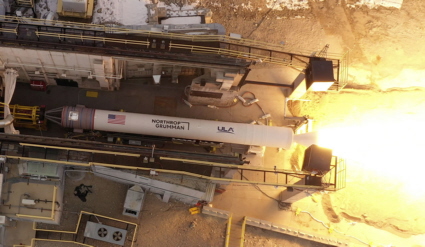 Northrop Grumman conducted a validation test of its GEM 63XL rocket motor on Jan. 21 at its Promontory, Utah, facility. The GEM 63XL will support the United Launch Alliance's Vulcan Centaur launch vehicle. Image courtesy of Northrop Grumman
(JAN 21) PROMONTORY, Utah – Northrop Grumman Corporation (NYSE: NOC) conducted a validation ground test of an extended length 63-inch-diameter Graphite Epoxy Motor (GEM 63XL) today in Promontory. This variation of the company's GEM 63 strap-on booster was developed in partnership with United Launch Alliance (ULA) to provide additional lift capability to the Vulcan Centaur rocket.
"This new motor optimizes our best-in-class technologies and leverages flight-proven solid rocket propulsion designs to provide our customers with the most reliable product," said Charlie Precourt, vice president, propulsion systems, Northrop Grumman. "Evolving the original GEM 63 design utilizes our decades of GEM strap-on booster expertise while enhancing capabilities for heavy-lift missions."
During today's static test, the motor fired for approximately 90 seconds, producing nearly 449,000 pounds of thrust to validate the performance capability of the motor design. Additionally, this firing verified the motor's internal insulation, propellant grain, ballistics and nozzle in a hot-conditioned environment.
Northrop Grumman
Virgin Orbit Aces Second Launch Demo and Deploys NASA Payloads
(JAN 17) Mojave, California - Virgin Orbit, the California-based satellite launch company, confirmed that its LauncherOne rocket reached space during the company's second launch demonstration today, successfully deploying 10 payloads for NASA's Launch Services Program (LSP). More
Vortices
The towering peaks of Fogo, Santa Antão, and São Nicolau of Cabo Verde (Cape Verde) disturb passing air masses and clouds producing trails called von Kármán vortex streets. The distinctive pattern can occur when a fluid passes a tall, isolated, stationary object. The Moderate Resolution Imaging Spectroradiometer (MODIS) on NASA's Terra spacecraft captured this image of the swirling trails of clouds on December 20. Terra was launched from California's Vandenberg AFB in 1999. Image courtesy of NASA
A New NASA Space Telescope, SPHEREx, Is Moving Ahead
The observatory will map the entire sky to study the rapid expansion of the universe after the big bang, the composition of young planetary systems, and the history of galaxies.
(JAN 5) NASA's upcoming space telescope, the Spectro-Photometer for the History of the Universe, Epoch of Reionization and Ices Explorer, or SPHEREx, is one step closer to launch. More