Space Dynamics Lab-Built Deep Space Radio Enters Lunar Orbit — Supports Artemis Program
(NOV 30) A deep-space radio built by Utah State University's Space Dynamics Laboratory is operating successfully onboard a NASA CubeSat technology demonstration mission to support Gateway, a vital component of NASA's Artemis program. More
Reaction Wheels
Engineers install 2-foot-wide reaction wheels onto the main body of NASA's Europa Clipper spacecraft at the agency's Jet Propulsion Laboratory in Southern California. In all, four wheels were integrated onto the spacecraft, which is being assembled for its launch to Jupiter's moon Europa in October 2024. Credit: NASA/JPL-Caltech
Rocket Lab Selected for TROPICS Mission
(NOV 23) NASA has selected Rocket Lab USA Inc. of Long Beach, California, to provide the launch service for the agency's Time-Resolved Observations of Precipitation Structure and Storm Intensity with a Constellation of Smallsats (TROPICS) mission, as part of the agency's Venture-class Acquisition of Dedicated and Rideshare (VADR) launch services contract.
The TROPICS mission consists of four CubeSats intended for two low-Earth orbital planes and is part of NASA's Earth System Science Pathfinder Program. Rocket Lab will launch the TROPICS satellites into their operational orbits during a 60-day period (first insertion to final insertion). These two dedicated Federal Aviation Administration (FAA) licensed launches, each on an Electron Rocket are targeted to launch no earlier than May 1, 2023, enabling NASA to provide observations during the 2023 Atlantic hurricane season, which begins June 1.
The TROPICS constellation targets the formation and evolution of tropical cyclones, including hurricanes and will provide rapidly updating observations of storm intensity, as well as the horizontal and vertical structures of temperature and humidity within the storms and in their surrounding environment. These data will help scientists better understand the processes that effect these high-impact storms, ultimately leading to improved modeling and prediction.
Building on NASA's previous procurement efforts to foster development of new launch vehicles for NASA payloads, VADR provides FAA-licensed commercial launch services for payloads that can tolerate higher risk. By using a lower level of mission assurance, and commercial best practices for launching rockets, these highly flexible contracts help broaden access to space through lower launch costs.
NASA
USU Leads International Space Mission to Shed New Light on Brazil's Vexing GPS Problem
(NOV 15) Logan, UT - In certain regions of Brazil, don't be surprised if your GPS device behaves erratically. For years, researchers have been scratching their heads, looking for a solution to the unreliable GPS signals in regions near the Amazon. More
United Launch Alliance Enables Advanced Weather Forecasting with Launch of Climate Monitoring Satellite for NOAA and NASA
A ULA Atlas V rocket carrying the JPSS-2 mission for NOAA and NASA and NASA's Low-Earth Orbit Flight Test of an Inflatable Decelerator (LOFTID) lifts off (click to enlarge) from Space Launch Complex-3 at Vandenberg SFB, Calif. at 1:49 a.m. PST on November 10. Photo by United Launch Alliance

(NOV 10) Vandenberg Space Force Base, Calif. - A United Launch Alliance (ULA) Atlas V rocket carrying the Joint Polar Satellite System (JPSS)-2 mission for the National Oceanic and Atmospheric Administration (NOAA) and National Aeronautics and Space Administration (NASA) and NASA's Low-Earth Orbit Flight Test of an Inflatable Decelerator (LOFTID) lifted off on Nov. 10 at 1:49 a.m. PST from Space Launch Complex-3 at Vandenberg Space Force Base. More
NASA Prepares to Say 'Farewell' to InSight Spacecraft
A closer look at what goes into wrapping up the mission as the spacecraft's power supply continues to dwindle.
(NOV 1) The day is approaching when NASA's Mars InSight lander will fall silent, ending its history-making mission to reveal secrets of the Red Planet's interior. More
Falcon 9 Launched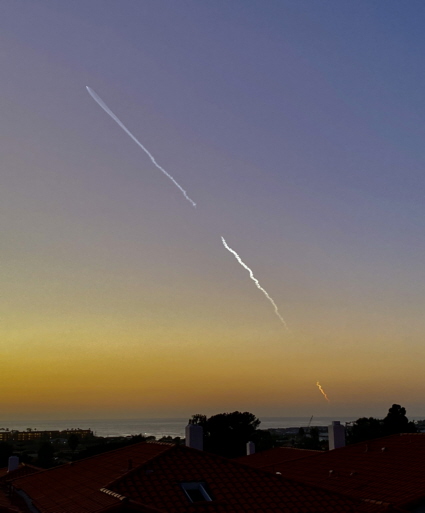 A Falcon 9 rocket climbs into the dusk sky following launch from Vandenberg Space Force Base, Calif. on October 27. Tom Harnish recorded this image from Carlsbad, Calif. using an iPhone. Image Copyright 2022, Tom Harnish. Used with permission.

(OCT 30) A Falcon 9 rocket carrying 53 Starlink satellites was successfully launched from Vandenberg SFB Thursday evening, October 27, at 6:14 p.m. PDT. Liftoff took place at Vandenberg SFB sunset, making the sky relatively bright in western California and northwest Mexico. Despite this, the rocket's exhaust plume and contrail were more visible than expected.

I observed the launch from a location about 101 statute miles (163 kilometers) east-southeast of the launch pad. During the early part of the first stage burn, I looked at the Falcon 9 using the naked eye and it appeared to be heading towards me. Using 10X tripod-mounted binoculars, I could clearly see the rocket's shape, details in the flame, staging, and the jettisoned first stage and nose cone clamshells. I was able to follow the second stage burn through the binoculars until the rocket was low in the southeast and passed behind a tree. Nine minutes after liftoff I heard a sonic boom followed a minute later by a distant, faint rumble.

The launch was seen over a wide area that included South San Jose, Sacramento, Bakersfield, and the Coachella Valley, California; Las Vegas, Nevada; Saint George, Utah; Phoenix and Tucson, Arizona; and El Paso, Texas. Observers further east the best view of the launch because the Sun was further below the horizon at liftoff and the rocket's exhaust plume had a darker sky for a background.

Brian Webb
Satellite to Study Earth's Water Arrives at Launch Site
The international SWOT mission will view Earth's ocean and surface water on land with unprecedented clarity.
(OCT 20) The Surface Water and Ocean Topography (SWOT) satellite arrived at Vandenberg Space Force Base in California, where teams will begin final preparations for the spacecraft's launch in December on a SpaceX Falcon 9 rocket from Space Launch Center-4 East. More
JPSS-2 Stacked Atop LOFTID Spacecraft
(OCT 13) Preparations continue for the launch of the National Oceanic and Atmospheric Administration's (NOAA) Joint Polar Satellite System-2 (JPSS-2) satellite. On Tuesday, Oct. 4, JPSS-2 was attached to its payload adapter inside the Astrotech Space Operations facility at Vandenberg Space Force Base in California. On Wednesday, Oct. 5, technicians and engineers completed the mate process using a crane to lift JPSS-2 and attach it to the top of the stack containing the re-entry vehicle for the Low-Earth Orbit Flight Test of an Inflatable Decelerator, or LOFTID, technology demonstration.
To prepare LOFTID for stacking, technicians mated the re-entry vehicle payload adapter interface ring to LOFTID inside Building 836 at Vandenberg. Then the team mated the payload adapter separation system inside the re-entry vehicle payload adapter canister. Finally, technicians lifted the payload adapter canister over the re-entry vehicle to complete the stack. The LOFTID stack was moved to Astrotech to complete mating operations with JPSS-2.
Next up, the assembly will be encapsulated in a protective payload fairing. After encapsulation, the team will transport the encapsulated spacecraft to Space Launch Complex-3 where a crane will hoist it up for attachment to the second stage of the United Launch Alliance Atlas V 401 rocket.
JPSS-2 and LOFTID together measure approximately 27 feet tall. Launch is targeted for Nov.1 from Vandenberg. NASA's Launch Services Program, based at the agency's Kennedy Space Center in Florida, is managing the launch.
Photo credit: USSF 30th Spacewing/Aaron Taubman
NASA
Testing, Testing: Space-Bound US-European Water Mission Passes Finals
(OCT 4) A rigorous testing program is the best way to ensure that every part of the Surface Water and Ocean Topography mission, down to the ball bearings, will work smoothly in orbit. More
Firefly Successfully Launches Alpha Flight 002 "To the Black"
(OCT 1) Vandenberg Space Force Base, Calif. -- Team Vandenberg launched multiple satellites to low Earth orbit aboard Firefly's Alpha vehicle from Vandenberg's Space Launch Complex-2, Oct. 1, at 12:01 a.m. Pacific Daylight Time.
Col. Robert Long, Space Launch Delta commander, was the launch decision authority.
"Early this morning the Western Range helped make possible a historical small vehicle demonstration launch into low Earth orbit," said Col. Robert Long, Space Launch Delta 30 commander. "Once again, our outstanding Airmen and Guardian professionals continue to showcase flawless execution and teamwork alongside Firefly. We are proud of their accomplishment and look forward to future launches."
The Alpha is an economical small satellite launch vehicle. Firefly had three educational payloads aboard and successfully inserted into an elliptical transfer orbit, coast to apogee, and performed a circularization burn.
Vandenberg SFB
Penn State's High-precision X-ray Instrument Makes its First Trip to Space
Randall McEntaffer, professor and head of astronomy and astrophysics at Penn State, makes adjustments to the flight electronics and power supply of the X-ray spectrometer that he and his team built for a September rocket launch with NASA. The spectrometer observed the X-ray spectrum from a supernova remnant while testing critical technologies. Credit: Patrick Mansell / Penn State.
(SEP 30) UNIVERSITY PARK, Pa. - A new X-ray instrument - designed, fabricated, and prepared for flight by a team from Penn State - recently scanned an exploded star while testing technology for future NASA missions. More
Delta IV Heavy Launched
(SEP 24) EL SEGUNDO, Calif. - The U.S. Space Force's Space Systems Command, United Launch Alliance, and their mission partners, successfully launched a National Reconnaissance Office payload today at 3:25 p.m. PDT from Space Launch Complex (SLC)-6 at Vandenberg Space Force Base (VSFB), on the central coast of California, north of Santa Barbara.
"We had yet another great launch for the NRO. The payload we've put into space today adds to the unique capability NRO provides to keep us safe and out in front of the threats posed by our strategic competitors," said Brig. Gen. Stephen Purdy, Program Executive Officer for Assured Access to Space. "In a time of frequent launches, today's mission may look familiar, but these national security launches are truly a next-level activity, with pre-launch handling and flight performance requirements that take extra planning and care. Today's team, comprised of the NRO, United States Space Force, and United Launch Alliance do an immense amount of work behind the scenes to ensure these specialized national assets get to orbit perfectly."
ULA's Delta IV Heavy has launched the NRO's heaviest satellites for more than a decade and is set to retire in 2024, making room for ULA's new rocket, the Vulcan. By that time, the Heavy will have placed approximately 28 national security satellites on orbit.
U.S. Space Force
Typhoon Muifa
Typhoon Muifa approaches the coast of China before coming ashore in Shanghai. Muifa affected port operations, oil and gas production, ferry and shipping traffic, fishing, and flight operations. The VIIRS instrument on the Suomi-NPP satellite recorded this natural-color image of Muifa just after 1 p.m. local time on September 14. Suomi-NPP was launched in October 2011 from Vandenberg Space Force Base, Calif. by a Delta II rocket. Image credit: NASA
NASA's Perseverance Rover Investigates Geologically Rich Mars Terrain
(SEP 15) NASA's Perseverance rover is well into its second science campaign, collecting rock-core samples from features within an area long considered by scientists to be a top prospect for finding signs of ancient microbial life on Mars. The rover has collected four samples from an ancient river delta in the Red Planet's Jezero Crater since July 7, bringing the total count of scientifically compelling rock samples to 12. More
Unarmed Minuteman III Test Launch from Vandenberg
(SEP 7) VANDENBERG SPACE FORCE BASE, Calif. -- An operational test launch of an Air Force Global Strike Command unarmed Minuteman III intercontinental ballistic missile launched from Vandenberg Space Force Base Wednesday, Sept. 7, at 1:13 a.m. Pacific Daylight Time.
The purpose of the ICBM test launch program is to validate and verify the safety, security, effectiveness, and readiness of the weapon system, according to Air Force Global Strike Command.
Col. Bryan Titus, Space Launch Delta 30 vice commander, was the launch decision authority.
"The Airmen and Guardians who perform this vital mission are some of the most skillfully trained and dedicated personnel in America's Air and Space Force," said Titus. "These test launches demonstrate the readiness of U.S. nuclear forces and provide confidence in the lethality and effectiveness of the nation's nuclear deterrent."
Vandenberg SFB
Frank Drake 1930-2022
Frank Drake, an eminent radio astronomer known for his pioneering efforts in the search for extraterrestrial intelligence (SETI), died September 2 at age 92 at his home in Aptos, California. In 1961 he devised the "Drake Equation," to estimate the number of communicative extraterrestrial civilizations that might be detectable in our galaxy. Drake also created the first interstellar message deliberately transmitted into space from Earth. He was a professor emeritus of astronomy and astrophysics and former dean of natural sciences at UC Santa Cruz. Drake also served as chair of the board of trustees of the SETI Institute. Image: SETI Institute
Engineers Solve Data Glitch on NASA's Voyager 1
(AUG 30) PASADENA, Calif. - Engineers have repaired an issue affecting data from NASA's Voyager 1 spacecraft. Earlier this year, the probe's attitude articulation and control system (AACS), which keeps Voyager 1's antenna pointed at Earth, began sending garbled information about its health and activities to mission controllers, despite operating normally. The rest of the probe also appeared healthy as it continued to gather and return science data.
The team has since located the source of the garbled information: The AACS had started sending the telemetry data through an onboard computer known to have stopped working years ago, and the computer corrupted the information.
Suzanne Dodd, Voyager's project manager, said that when they suspected this was the issue, they opted to try a low-risk solution: commanding the AACS to resume sending the data to the right computer.
Engineers don't yet know why the AACS started routing telemetry data to the incorrect computer, but it likely received a faulty command generated by another onboard computer. If that's the case, it would indicate there is an issue somewhere else on the spacecraft. The team will continue to search for that underlying issue, but they don't think it is a threat to the long-term health of Voyager 1.
"We're happy to have the telemetry back," said Dodd. "We'll do a full memory readout of the AACS and look at everything it's been doing. That will help us try to diagnose the problem that caused the telemetry issue in the first place. So we're cautiously optimistic, but we still have more investigating to do."
Voyager 1 and Voyager 2 have been exploring our solar system for 45 years. Both probes are now in interstellar space, the region outside the heliopause, or the bubble of energetic particles and magnetic fields from the Sun.
More About the Mission
A division of Caltech in Pasadena, JPL built and operates the Voyager spacecraft. The Voyager missions are a part of the NASA Heliophysics System Observatory, sponsored by the Heliophysics Division of the Science Mission Directorate in Washington.
For more information about the Voyager spacecraft, visit:
https://www.nasa.gov/voyager
Jet Propulsion Laboratory
With Webb Space Telescope, UArizona Astronomers Help Detect Carbon Dioxide in Exoplanet Atmosphere
(AUG 25) Since NASA's James Webb Space Telescope began operations, breathtaking images offering never-before-seen views of the Milky Way have captured the imagination of people around the world. More
Under Construction
The core of NASA's Europa Clipper spacecraft takes center stage in the Spacecraft Assembly Facility at the Jet Propulsion Laboratory in Southern California. For the next two years, the craft's main body will be the focus of attention in the facility's ultra-hygienic High Bay 1 as engineers and technicians assemble the spacecraft for a 2024 launch. Following liftoff, the spacecraft will make 50 flybys of Jupiter's moon Europa, a body believed to harbors a vast internal ocean that may have conditions suitable for supporting life. Credit: NASA/JPL-Caltech
Minuteman III Test Launch Showcases Readiness of U.S. Nuclear Force's Safe, Effective Deterrent
(AUG 16) BARKSDALE AIR FORCE BASE, La. -- Air Force Global Strike Command Airmen launched an unarmed Minuteman III intercontinental ballistic missile equipped with a test re-entry vehicle from Vandenberg Space Force Base, California ... More
Falcon 9 Launched
(AUG 12) A Falcon 9 rocket carrying 46 Starlink internet satellites was successfully launched today (August 12) from Vandenberg SFB at 2:40:20 p.m. PDT (21:40:20 UTC).
I observed the launch from approximately 95 statute miles east-southeast of the launch site. The first stage burn was visible to the unaided eye, but it was an unimpressive orange speck. However, the view through 10x tripod-mounted binoculars was much better. I could clearly see detail within the elongated orange flame and was able to follow the Falcon 9 all the way to first stage cutoff. The image quality through the binoculars was degraded due to shimmering from the heat.
Brian Webb
Northwestern Rocket to Image Supernova Remnant
Project will study how the explosion spreads 'star stuff' throughout the galaxy
(AUG 11) EVANSTON, Ill. - A Northwestern University astrophysics team is aiming for the stars - well, a dead star, that is.
On Aug. 21, the NASA-funded team will launch its "Micro-X" rocket from White Sands Missile Range in southern New Mexico. The rocket will spend 15 minutes in space — just enough time to snap a quick image of supernova remnant Cassiopeia A, a star in the Cassiopeia constellation that exploded approximately 11,000 light-years away from Earth. Then, the rocket will parachute back to Earth, landing in the desert — about 45 miles from the launchpad — where the Northwestern team will recover its payload.
Short for "high-resolution microcalorimeter X-ray imaging rocket," the Micro-X rocket will carry a superconductor-based X-ray imaging spectrometer that is capable of measuring the energy of each incoming X-ray from astronomical sources with unprecedented accuracy.
"The supernova remnant is so hot that most of the light it emits is not in the visible range," said Northwestern's Enectali Figueroa-Feliciano, who leads the project. "We have to use X-ray imaging, which isn't possible from Earth because our atmosphere absorbs X-rays. That's why we have to go into space. It's like if you jumped into the air, snapped a photo just as your head peeked above the atmosphere and then landed back down."
Northwestern University
Satellite Watcher
Grace Halferty, a University of Arizona senior poses with an instrument built by U of A faculty and students as part of a study to measure the brightness and position of SpaceX Starlink satellites. The research team made 353 measurements of 61 satellites over two years and compared their information with government satellite tracking data. Their findings were published in Monthly Notices of the Royal Astronomical Society. The information may help astronomers prevent astronomical images from being tainted by satellite trails. Image Credit: Kyle Mittan/University Communications
Northrop Grumman Missile Warning Payload Launched
(AUG 4) AZUSA, Calif. - Northrop Grumman Corporation (NYSE: NOC) has played a vital role in the successful deployment of the missile warning satellite for the U.S. Space Force's sixth and final mission in the Space Based Infrared System Geosynchronous Earth Orbit (SBIRS GEO)-6 program series.
Working in partnership with prime contractor Lockheed Martin, Northrop Grumman designed and built the mission payload, which is equipped with powerful scanning and staring infrared surveillance sensors that launched today aboard a United Launch Alliance Atlas V. SBIRS GEO-6 joins the U.S. Space Force's constellation of satellites in support of the missile warning, missile defense, battlespace awareness and technical intelligence areas.
In addition to the mission payload, Northrop Grumman provided propulsion, key composite structures and other critical components on the Atlas V launch vehicle. Two Northrop Grumman 63-inch diameter Graphite Epoxy Motors (GEM 63) solid rocket boosters provided additional thrust at launch to enhance the lift capability of the Atlas V launch vehicle and support the rocket's ability to place payloads in desired orbits.
"Northrop Grumman's payloads and components provide the military with critical missile warning capabilities for our warfighters and allies," said Aaron Dann, vice president, Strategic Force Programs, Northrop Grumman. "The launch of SBIRS GEO-6 marks the end of a proud legacy on this program, one that involved Northrop Grumman from the very first mission in 2011, and demonstrates our continued leadership in support of missile tracking and defense architecture."
Northrop Grumman's proven experience in missile detection, identification, tracking and communication systems positions the company as a key provider of future early-warning missile systems that offer expanded capabilities, including the Next Generation Overhead Persistent Infrared Polar program, in support of the United States and allied nations. Visit the Northrop Grumman website to read more about Northrop Grumman's missile defense capabilities.
Northrop Grumman
X-Bow Successfully Launches "Bolt" Rocket
Bolt is the first in X-Bow's new suite of sub-orbital and orbital capable launch vehicles
(JUL 26) WHITE SANDS, N.M. -- X-Bow Systems (X-Bow), today confirmed the successful first launch of its Bolt Rocket at White Sands Missile Range. Bolt is the first vehicle in X-Bow's new suite of modular boost rockets. The mission, named XL-2, carried a Payload Test Vehicle for the Department of Energy's Los Alamos National Laboratory (LANL). With the success of this launch, the X-Bow team continues to usher new technologies, capabilities and competition into the solid rocket motor (SRM) Industrial Base.
X-Bow's team will now examine the XL-2 mission data, inspect the recovered hardware and move on to test its additively manufactured solid propellant technology on its second mission, sponsored by the U.S. Army Space and Missile Defense Command (SMDC) and the Department of Defense Innovation Unit (DIU). Multiple further launches of increasing size and capabilities in support of, and under contract with additional customers are scheduled through 2024 and beyond. X-Bow also continues to offer its Bolt 'Orbital Vehicle' to the U.S. Space Force on the OSP-4 contract.
The Bolt launch follows last month's successful static fire of the 32" diameter Ballesta Solid Rocket Motor. The Ballesta motor and the Bolt rocket were both built and assembled in tactical field conditions with minimal tools and handling gear. At full production, X-Bow will launch monthly, or more frequently, from various sub-orbital ranges across the US and its territories.
X-Bow Systems
Booster Test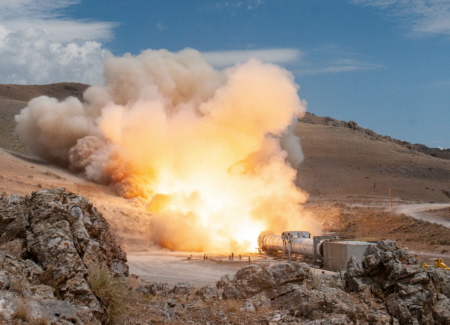 Northrop Grumman Corporation and NASA successfully conduct a full-scale static fire of NASA's Space Launch System (SLS) rocket motor in Promontory, Utah on July 21. The five-segment solid rocket booster is the world's largest solid rocket motor and will provide more than 75 percent of the SLS rocket's initial thrust during launch. Over 300 measurement channels assessed the 154-foot-long solid rocket booster as it fired for just over two minutes producing upwards of 3.6 million pounds of thrust. Image: Northrop Grumman
Northrop Grumman
Falcon 9 Launched
(JUL 22) A Falcon 9 rocket was successfully launched this morning from Vandenberg Space Force Base, Calif. The vehicle lifted off as scheduled from Space Launch Complex 4-East at 10:39:40 a.m. PDT and carried 46 Starlink satellites into orbit. Approximately one hour after launch, the Falcon 9 upper stage was spun up and the satellites were deployed en masse.
Brian Webb
Hypersonic Test Conducted Off California Coast
(JUL 13) EGLIN AIR FORCE BASE, Fla. (AFNS) -- The Air Force conducted another successful hypersonic test off the Southern California coast, July 12.
The Air-Launched Rapid Response Weapon Booster Test Flight-3 was the 12th flight for the program and third release demonstration. The AGM-183A weapons system reached hypersonic speeds and primary and secondary objectives were met.
"This was another important milestone for the Air Force's first air-launched hypersonic weapon. The test successfully demonstrated booster performance expanding the operational envelope. We have now completed our booster test series and are ready to move forward to all-up-round testing later this year. Congratulations to the entire ARRW team, your dedication and expertise are what got us here," said Brig Gen. Heath Collins, Armament Directorate program executive officer.
ARRW is designed to provide the ability to destroy high-value, time-sensitive targets. It will also expand precision-strike weapon systems' capabilities by enabling rapid response strikes against heavily defended land targets.
Secretary of the Air Force Public Affairs
Waking Sun
The presence of several sunspots provided more evidence that solar activity is on the upswing as part of Solar Cycle 25. NASA's Solar Dynamics Observatory recorded this white-light view of of Sun and its spots on July 10. Credit: NASA
Minotaur II+ Explodes Shortly After Liftoff
(JUL 7) VANDENBERG SPACE FORCE BASE, Calif. -- A Minotaur II+ rocket exploded approximately 11 seconds after launching from Test Pad-01 at 11:01 p.m. Wednesday.
There were no injuries in the explosion and the debris was contained to the immediate vicinity of the launch pad.
"We always have emergency response teams on standby prior to every launch," said Col. Kris Barcomb, Space Launch Delta 30 vice commander and launch decision authority for this launch. "Safety is our priority at all times."
An investigative review board has been established to determine the cause of the explosion.
Vandenberg SFB
Airborne Launch Carries Satellites into Orbit
(JUL 2) OFF THE SOUTHERN CALIFORNIA COASTLINE – Space Systems Command and Long Beach-based Virgin Orbit National Systems, a US-incorporated, wholly-owned subsidiary of Virgin Orbit, successfully air-launched seven Department of Defense Research and Development satellites for the U.S. Space Force on the company's LauncherOne rocket, after taking off Friday evening from Mojave Air and Space Port, California.
The nighttime mission, designated STP-S28A, demonstrated commercially available solutions to place Space Force satellite capabilities on-orbit, providing flexibility and resiliency for the Space Force and warfighter requirements in an increasingly contested environment.
"Congratulations to the STP team and our mission partners on today's successful launch," said Brig. Gen. Timothy Sejba, program executive officer for Space Domain and Combat Power, which manages the DoD Space Test Program. "The STP team continues to demonstrate how agile access to space enables us to quickly and affordably prove out new R&D technology on-orbit, accelerating the development of our future, more resilient, space architecture."
"I'm thrilled with today's successful launch," said Lt. Col. Jonathan Shea, director of the DoD Space Test Program. "Cost effective space access is key to the U.S. Space Force's pivot to a more resilient space architecture. This launch with Virgin Orbit exemplifies SSC's commitment to expanding partnerships with innovative companies and accelerating the delivery of future capabilities for the Warfighter."
According to Shea, these new space vehicles will contribute to the nation's defense and gain ground against any adversaries operating in the highly contested space domain.
Space Systems Command, headquartered at Los Angeles Air Force Base in El Segundo, California, is the U.S. Space Force field command responsible for rapidly developing, acquiring, equipping, fielding and sustaining lethal and resilient space capabilities. SSC mission capability areas include launch acquisition and operations, communications and positioning, navigation and timing (PNT), space sensing, battle management command, control and communications (BMC3), and space domain awareness & combat power.
Space Systems Command
Layered Rocks
NASA's Curiosity Mars rover captured this view of layered, flaky rocks (click to enlarge) believed to have formed in an ancient streambed or small pond. The six images that make up this mosaic were captured using Curiosity's Mast Camera, or Mastcam, on June 2, 2022, the 3,492nd Martian day, or sol, of the mission. Curiosity is managed for NASA by the Jet Propulsion Laboratory in Pasadena, Calif. Credit: NASA/JPL-Caltech/MSSS
National Guard Coordinates Transport of German Satellite
(JUN 23) ARLINGTON, Va. -- A rocket carrier is barely recognizable from a distance on a typically foggy June morning at Vandenberg Space Force Base, California. More
Falcon 9 Launched
(JUN 18) A Falcon 9 rocket was successfully launched this morning from Vandenberg Space Force Base, California. The vehicle lifted off from south base as planned at 07:19 PDT, the presumed start of an unannounced launch window. Following liftoff, the Falcon 9 headed south as it carried the German military's SARah-1 Earth-imaging satellite into orbit.
Brian Webb
Electromagnetic Testing
A model of NASA's Sun Radio Interferometer Space Experiment (SunRISE) spacecraft undergoes testing in an electromagnetic anechoic chamber at Utah State University. SunRISE is designed to observe powerful solar storms that send trillions of tons of charged matter toward Earth. The test was conducted by the university's Space Dynamics Laboratory (SDL) to ensure the spacecraft did not interfere with the payload's sensitive measurements. (Allison Bills/SDL photo)
NASA Eyes November for Launch of NOAA's JPSS-2
(MAY 31) NASA and the National Oceanic and Atmospheric Administration (NOAA) are now targeting Nov. 1, 2022, as the new launch date for NOAA's Joint Polar Satellite System-2 (JPSS-2) satellite mission. More
Starliner Test Flight Completed
(MAY 25) WHITE SANDS, NEW MEXICO - Boeing's [NYSE: BA] CST-100 Starliner spacecraft landed at the U.S. Army's White Sands Missile Range in New Mexico at 5:49 p.m. Central Time. The safe return to Earth brings a close to the successful end-to-end uncrewed orbital flight test that was flown to demonstrate the quality and performance of the transportation system prior to crewed flights.
"We have had an excellent flight test of a complex system that we expected to learn from along the way and we have," said Mark Nappi, vice president and program manager, Boeing Commercial Crew Program. "Thank you to the NASA and Boeing teammates who have put so much of themselves into Starliner."
The flight test completed today began May 19 with a launch from Florida's Cape Canaveral Space Force Station atop a United Launch Alliance Atlas V rocket. Capabilities the Starliner demonstrated included:
End-to-end performance of the Atlas V rocket and Starliner spacecraft through launch, ascent, on-orbit, re-entry and landing;

Starliner's autonomous software and the on-orbit operation of its avionics system, docking system, communications/telemetry systems, environmental control systems, solar arrays, electrical power systems, and propulsion systems;

Ability to hold docking attitude, receive commands from the space station crew, and command holds and retreats during final station approach;

Battery charging, hatch open and close, establishing joint ventilation with the station, file transfer and cargo transfer.
When Starliner completes its next flight, Boeing will have fulfilled NASA's goal of having two commercial vehicles to transport astronauts safely, reliably and sustainably to the station from American soil.
"With the completion of OFT-2, we will incorporate lessons learned and continue working to prepare for the crewed flight test and NASA certification," Nappi added.
Boeing
Are We Alone in the Cosmos? Space Dynamics Lab to Help Answer the Question
SDL Mechanical Engineering Associate Paul Fluckiger (left), Mechanical Engineer Trever Mitton (center), and JPL Cryogenic Thermal Subsystem Project Lead Weibo Chen prepare the CTS for delivery to JPL at SDL facilities in North Logan, Utah. (Credit: SDL/Kelden Peterson)
(MAY 17) Utah State University's Space Dynamics Laboratory announced Tuesday that it has delivered a critical subsystem to NASA's Jet Propulsion Laboratory for integration onto the Nancy Grace Roman Space Telescope. More
Get Ready for More Flares
(MAY 3) A new and potentially very active sunspot group emerged today. It announced itself with an X1-class solar flare, which caused a strong shortwave radio blackout over the Atlantic Ocean and Europe. More flares may be in the offing as the sunspot turns toward Earth.
Spaceweather.com
Solar Flare
As it rotated behind the Sun, sunspot AR2994 produced an X1-class solar flare on April 30. The radiation from the explosion was strong enough to cause a strong shortwave radio blackout over the Atlantic and Europe. NASA's Solar Dynamics Observatory imaged the solar flare (click to enlarge) which is visible as a red plume on the right edge of the Sun. Image Credit: NASA
NASA Gives Green Light for OSIRIS-REx Spacecraft to Visit Another Asteroid
(APR 25) NASA's OSIRIS-REx spacecraft will swing by Earth to deliver a sample from asteroid Bennu on Sept. 24, 2023. But it won't clock out after that. More
NGC Expands Satellite Manufacturing Facility
(APR 22) GILBERT, Ariz. – Northrop Grumman Corporation (NYSE: NOC) today marked the completion of its expansion of the satellite manufacturing facility at its Gilbert, Arizona campus. The expansion adds 120,000 sq. ft to the existing 135,000 sq. ft. facility, nearly doubling the site's production capacity to meet the company's growing backlog of satellite orders.
Programs currently in production at the Gilbert facility include the JPSS-2, -3 and -4 Earth observation satellites for NASA and NOAA as well as several ESPAStar and more than 30 ESPASat satellites for various customers, with capacity for many more per year. The facility will also be home to the integration and testing of the Habitation and Logistics Outpost (HALO), the first module of NASA's Lunar Gateway that will serve as a space station orbiting the moon, providing vital support for long-term human exploration of the lunar surface and deep space.
The 30-acre Northrop Grumman Gilbert campus features a total of 435,000 sq. feet of space for satellite design, engineering, manufacturing, testing, and program management. The satellite manufacturing facility is designed to enable the manufacture of spacecraft under one roof.
The flexibility built into the facility allows for the production of spacecraft ranging from larger mission-unique satellites to the large-scale production of small satellites, enabling the agility required to meet customer needs.
Northrop Grumman
Environmental Testing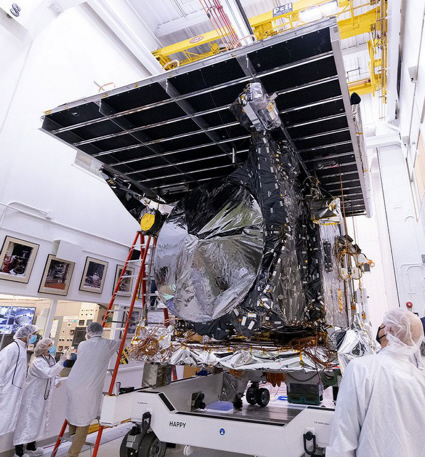 NASA's Psyche spacecraft heads to the vacuum chamber for environmental testing at the Jet Propulsion Laboratory in California. The craft is slated for launch from Florida this summer when it will begin a 1.5 billion mile (2.4 billion kilometer) journey to the metallic asteroid Psyche. Credit: NASA/JPL-Caltech
Amazon Signs Launch Contract with ULA
(APR 5) Centennial, Colo. - United Launch Alliance (ULA) announced today that Amazon has selected its next-generation Vulcan rocket for 38 launches supporting deployment for its ambitious Project Kuiper, Amazon's initiative to increase global broadband access through a constellation of 3,236 advanced satellites in low Earth orbit.
"We strongly believe in the mission of Project Kuiper. We are honored to be entrusted with the majority of Amazon's launches with a total of 47 missions, including the nine Atlas launches already on contract," said Tory Bruno, ULA's president and CEO. "At ULA we are focused on serving our customers and partnering with them to provide unmatched flight capabilities and mission operations and assurance, to provide the lowest risk and best-value launch solution."
The Vulcan missions will launch from Space Launch Complex 41 at Cape Canaveral Space Force Station in Florida.
"ULA has decades of experience and a proven track record across dozens of successful commercial and government missions, and we're proud to have them on our team," said Rajeev Badyal, Vice President of Technology for Project Kuiper at Amazon. "Our work together to enhance launch operations at Cape Canaveral stands to benefit the broader space industry and contribute to greater resilience in space operations."
"Vulcan Centaur's unique, single-core, heavy lift design, coupled with its industry-leading large payload fairing, makes it an excellent fit for Amazon's deployment of the majority of its Project Kuiper constellation," said Chris Ellerhorst, ULA director of Strategy, Business Development and Sales. "In addition to the launches, this partnership includes substantial investments made by both companies in high-rate production, launch vehicle improvements, and launch infrastructure, to support Amazon's long-term launch needs, which is great for the U.S. aerospace industry and supply chain."
Amazon's goal for Project Kuiper is to make high-speed, low-latency broadband more affordable and accessible for unserved and underserved communities around the world. The initiative is designed to serve individual households, as well as schools, hospitals, businesses, government agencies, and other organizations operating in places without reliable broadband services.
United Launch Alliance
Northrop Grumman Tests Abort Motor
(MAR 31) PROMONTORY, Utah - Northrop Grumman Corporation (NYSE: NOC) and Lockheed Martin successfully performed the final full-scale ground test of the abort motor for NASA's Orion spacecraft Launch Abort System (LAS) at Northrop Grumman's Promontory test facility. The 17-foot-tall abort motor is one of three motors comprising the LAS that sits atop the Orion spacecraft aboard NASA's Space Launch System (SLS) rocket and is designed to increase astronaut safety on the pad and through initial ascent.
Approximately 250 measurement channels assessed the abort motor as the four exhaust nozzles pointing skyward produced nearly 400,000 pounds of thrust over its two-second firing time. Today's test concludes the verification of a new insulation formulation and completes qualification testing for the Orion's LAS.
"This impressive, high-impulse motor burns three times faster than a typical motor of this size, and if needed, the reverse-flow nozzles pull the crew capsule away from the launch vehicle and to safety," said Wendy Williams, vice president, propulsion systems, Northrop Grumman. "Together, the three solid rocket motors of the LAS equip the SLS with the highest human-rated thrust and acceleration safety system possible."
The first active LAS system will be integrated into the Orion spacecraft for Artemis II, the first crewed flight of SLS.
Northrop Grumman
Spring Arrives
High mountains are dusted in snow while only a few areas are green as spring arrives in the western U.S. NASA's Terra spacecraft recorded the scene in natural color during a daylight pass over the region on March 24. Terra was launched aboard a Delta II rocket from from Vandenberg Air Force Base, California in 1999. Image Credit: MODIS Land Rapid Response Team, NASA GSFC
International Sea Level Satellite Takes Over From Predecessor
(MAR 22) On March 22, the newest U.S.-European sea level satellite, named Sentinel-6 Michael Freilich, became the official reference satellite for global sea level measurements. More
STSS Satellites Complete Mission
(MAR 15) REDONDO BEACH, Calif. - Built by Northrop Grumman Corporation (NYSE: NOC) in support of the Missile Defense Agency, two demonstration Space Tracking and Surveillance System (STSS) satellites successfully completed their missions and have been retired. Their achievements pave the way for future operational missile warning and tracking systems that will defend the nation.
"Launched in 2009 and expected to operate for four years, these demonstration satellites outlived their design life threshold three times over," said Sarah Willoughby, vice president, overhead persistent infrared and geospatial systems, Northrop Grumman. "Now we are applying what we learned from STSS for future systems to keep America and its allies safe."
The STSS experimental spacecraft proved their ability to detect and track short-, medium-, intermediate- and intercontinental-range missiles from boost phase to midcourse, then communicate target-quality track data to command and control systems for interception.
The satellites used sensors to detect and track ballistic missiles for interception. They tracked targets; helped discriminate real threats, guide interceptors to targets, and assess interceptor hits; collected data on launches, on-orbit satellites, satellite re-entries and other space-based missions; and played a critical role in one of MDA's integrated Ballistic Missile Defense System flight test.
Northrop Grumman
Vibration Test
The HElium Resonance Scatter in the Corona and HELiosphere (HERSCHEL) payload undergoes vibration testing at the White Sands Missile Facility in New Mexico. HERSCHEL will study the origin of the slow solar wind, investigate the variation of helium abundance in the Sun's corona, and facilitate future investigation of coronal mass ejections and other solar dynamics. The payload is scheduled for launch aboard a NASA Black Brant IX suborbital sounding rocket from White Sands Missile Range as soon as March 7. Image credit: Credits: NASA/Ted Gacek
Austin Postpones Test of Minuteman III Missile
(MAR 2) WASHINGTON, D.C. - Secretary of Defense Lloyd J. Austin III exemplified how a responsible nuclear nation should behave and postponed a long-planned test launch of an American Minuteman III rocket, Pentagon Press Secretary John F. Kirby said today during a news conference. More
Falcon 9 Launched
(FEB 26) A SpaceX Falcon 9 rocket was successfully launched Friday, February 25 from Vandenberg Space Force Base on California's Central Coast. The vehicle lifted off from Space Launch Complex 4E on south base at 9:12 a.m. PST (17:12 UTC) during an instantaneous launch window and paralleled the coast as it gained altitude. The rocket later delivered 50 Starlink satellites into orbit.
The rocket's first stage was recovered on the drone ship "Of Course I still Love You" stationed off the coast of Baja California.
Although the launch occurred well after sunrise, very clear weather made the initial portion of the event visible to the unaided eye for at least 100 statute miles.
Brian Webb
Polar Glow
Jupiter's north and south polar regions glow purple in this x-ray image from NASA's NuSTAR spacecraft. The purple represents the highest-energy light ever detected from the planet. NuSTAR cannot locate the source of the light with high precision, but can only find that the light is coming from somewhere in the purple-colored regions. The NuSTAR mission is led by Caltech and managed by JPL for NASA. Image: NASA/JPL-Caltech
Firm Selected for Rocket to
Return First Mars Samples
(FEB 7) WASHINGTON, D.C. - NASA has awarded a contract to Lockheed Martin Space of Littleton, Colorado, to build the Mars Ascent Vehicle (MAV), a small, lightweight rocket to launch rock, sediment, and atmospheric samples from the surface of the Red Planet.
Set to become the first rocket fired off another planet, the MAV is a crucial part of a campaign to retrieve samples collected by NASA's Perseverance rover and deliver them to Earth for advanced study. NASA's Sample Retrieval Lander, another important part of the campaign, would carry the MAV to Mars' surface, landing near or in Jezero Crater to gather the samples cached by Perseverance. The samples would be returned to the lander, which would serve as the launch platform for the MAV. With the sample container secured, the MAV would then launch.
Once it reaches Mars orbit, the container would be captured by an ESA (European Space Agency) Earth Return Orbiter spacecraft outfitted with NASA's Capture, Containment, and Return System payload. The spacecraft would bring the samples to Earth safely and securely in the early- to mid-2030s.
Returning a sample is complicated, and MAV faces some complex development challenges. It must be robust enough to withstand the harsh Mars environment and adaptable enough to work with multiple spacecraft. It also must be small enough to fit inside the Sample Retrieval Lander. The Sample Retrieval Lander is planned for launch no earlier than 2026 from NASA's Kennedy Space Center in Florida.
Lockheed Martin Space will provide multiple MAV test units and a flight unit. Work under the contract includes designing, developing, testing, and evaluating the integrated MAV system, and designing and developing of the rocket's ground support equipment.
The cost-plus-fixed-fee Mars Ascent Vehicle Integrated System (MAVIS) contract has a potential value of $194 million. The performance period begins no later than Feb. 25 and will extend six years.
This strategic NASA and ESA partnership would be the first mission to return samples from another planet and the first launch from the surface of another planet. The samples collected by Perseverance during its exploration of an ancient river delta are thought to present the best opportunity to reveal the early evolution of Mars, including the potential for life.
NASA
NROL-87 Launched From Vandenberg Wednesday
(FEB 2) VANDENBERG SPACE FORCE BASE, Calif. -- Team Vandenberg launched the National Reconnaissance Office mission (NROL-87) from Space Launch Complex-4 here Wednesday, Feb. 2, at 12:27 p.m. Pacific Time.
Col. Rob Long, Space Launch Delta 30 commander, was the launch decision authority.
"The Western Range has a storied history of success alongside the National Reconnaissance Office. I'm proud of the team's dedication and focus in conducting safe launch and range operations to ensure this vital national security program succeeded," said Col. Rob Long, Space Launch Delta 30 commander. "We are proud to achieve another first together with the NRO and SpaceX, and demonstrate once again how our strong and lasting partnerships lead to mission success."
Space Launch Delta 30's primary responsibilities include maintaining and operating the Western range, providing mission assurance, safeguarding the public and ensuring minimal environmental impact so we can provide services, facilities and range safety control for the execution of DoD, civil and commercial launches.
Vandenberg SFB
Active Region
A new sunspot named AR2936 (active region 2936) quadrupled in size in only 48 hours and hurled a solar flare and coronal mass ejection towards Earth on January 30. The National Solar Observatory recorded this view of the Sun and AR2936 from Boulder, Colorado the same day. Image courtesy NSO
NASA Awards Virgin Orbit Launch Services Contract
(JAN 27) LONG BEACH, CALIFORNIA - Virgin Orbit (Nasdaq: VORB) announced today its selection by NASA's Launch Services Program to provide launch services for the agency's Venture-Class Acquisition of Dedicated Rideshare (VADR) missions. The fixed-price indefinite-delivery/indefinite-quantity contract will leverage commercial satellite launch practices, and together with the flexibility afforded by Virgin Orbit's LauncherOne system enables more efficient launch timelines, mission-tailored orbits, and competitive costs.
"This contract award is a great step forward for commercial space," said Dan Hart, CEO of Virgin Orbit. "The VADR contract vehicle now provides a platform for NASA to more easily contract for flights on our LauncherOne service. That means it will be easier than ever for us to work with NASA to provide targeted and economic access to space, maximizing the science gains from their small satellite missions and enabling ever greater technological innovation."
Virgin Orbit has already launched thirteen satellites to space for NASA through programs like the Venture Class Launch Services program and the CubeSat Launch Initiative. In a similar spirit the VADR acquisition will build on that foundation. The contract has a five-year ordering period with a maximum total value of $300 million and will be managed by the Launch Services Program at the agency's Kennedy Space Center in Florida.
NASA's selection of Virgin Orbit as a VADR launch provider comes fresh off the company's third successful launch in under twelve months, wherein it brought its unblemished count of successfully deployed satellites to 26. Having already proven out the LauncherOne system, reached new orbital inclinations never before possible from the West Coast, and even launched through inclement weather, Virgin Orbit is now scaling up its flight rate to accommodate the high demand seen from commercial customers, the national security community, the international community and, through programs like VADR, the US civil space community.
Virgin Orbit
ICEYE US Wins NRO Contract
(JAN 20) Irvine, CALIFORNIA - ICEYE US, a subsidiary of ICEYE, the global leader in persistent Earth monitoring with radar satellite imaging, announced today that it has received a contract from the National Reconnaissance Office (NRO). This contract enables ICEYE US to participate in the NRO's evaluation of commercial remote sensing companies operating synthetic aperture radar (SAR) satellites.
With a focus on modeling and simulation, ICEYE US will support NRO's detailed assessment of imaging modes, image quality, geolocation accuracy and coverage among other important technical parameters. The contract represents a critical step in NRO's plan to leverage next generation commercial radar providers to deliver innovative, resilient, and responsive satellite imagery for intelligence, defense, and humanitarian efforts.
ICEYE US builds and operates U.S.-licensed SAR spacecraft from its facility in Irvine, California. The company successfully launched its first-ever satellite earlier this month with SpaceX and Exolaunch. ICEYE's satellites are small, each weighing about 220 pounds, but provide customers with detailed images and measurements of activities on the surface of the Earth. Such satellites can be continually improved on ground and in space with new technologies and in response to specific customer requirements.
At any given time, most of the Earth is covered in clouds or darkness. Unlike traditional Earth observation satellites, ICEYE's small radar imaging satellites can form high-resolution images of areas of the Earth in daylight, at night, and through cloud cover. In other words, they can "see" any part of the Earth multiple times a day. ICEYE's satellites can collect images over wide areas and even more detailed images over smaller points of interest. This provides customers with persistent coverage of fast breaking events on the ground in all weather conditions.
ICEYE US
Great Lakes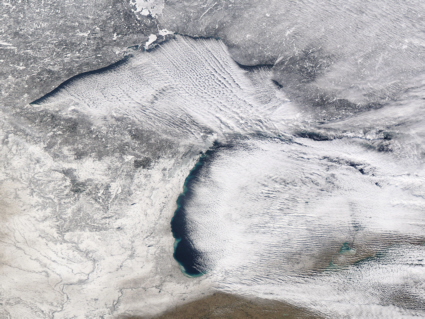 Frigid weather and strong winds collaborated to created spectacular cloud formations over two of the Great Lakes. The Moderate Resolution Imaging Spectroradiometer (MODIS) on board NASA's Aqua satellite acquired this true-color image (click to enlarge) of the clouds over Lakes Superior and Michigan on January 10. The long rows of parallel white clouds—called "cloud streets"—are most clearly defined and dramatic over Lake Superior (north), but some also exist over Lake Michigan. Aqua was launched from Vandenberg SFB in 2002. Image Credit: NASA
Virgin Orbit Launch Successful
(JAN 13) MOJAVE, CALIFORNIA - Virgin Orbit (Nasdaq: VORB), the responsive launch and space solutions company, confirmed it successfully deployed into orbit all 7 customer satellites onboard its LauncherOne rocket during today's Above the Clouds mission.
Virgin Orbit's 747 carrier aircraft Cosmic Girl took off from Mojave Air and Space Port this afternoon at approximately 1:39 PM PST/09:39 PM UTC and flew to a launch site over the Pacific Ocean, about 50 miles south of the Channel Islands. After a smooth release from the aircraft, the LauncherOne rocket ignited and propelled itself towards space, ultimately deploying its payload into a precise target orbit approximately 500km above the Earth's surface at 45 degrees inclination. This is the first time that anyone has reached this orbit from the West Coast.
The launch was the company's third successful flight, occurring less than one year from its first mission. Virgin Orbit has now successfully delivered commercial, government, international, and national security satellites to space, including new Above the Clouds customer Spire Global, Inc. (NYSE: SPIR), and first ever repeat customers: the U.S. Department of Defense Space Test Program and Polish company SatRevolution. This launch was awarded to Virgin Orbit through its subsidiary VOX Space by the DoD's Defense Innovation Unit (DIU) as part of the DoD Space Test Program's (STP) Rapid Agile Launch (RALI) Initiative.
The satellites launched on the company's latest mission include experiments in space-based communications, space debris detection, and in-space navigation and propulsion, as well as satellites that will serve the global agricultural sector. The launch brings the total number of satellites launched by Virgin Orbit to 26.
Because of the unique air-launch system Virgin Orbit has developed, the Above the Clouds mission was launched in an orbit never before directly accessible from the West Coast of the Americas. Rather than launching from a fixed pad on the ground, Virgin Orbit conducts its launches from under the wing of a modified 747 aircraft, and by flying the aircraft further out over the ocean, the company was able to launch on a trajectory no ground-launch rocket could have achieved. That direct injection into the target orbit saved the satellites onboard this mission months of time and kilograms of fuel they might have otherwise spent correcting their orbit from what a landlocked launch site could provide them.
Virgin Orbit